Giant panda cubs kick start Chinese New Year 2017 celebrations
The cute giant panda cubs are from the Bifengxia Panda Base
What better way to start the Chinese New Year than to have lovable giant panda cubs vying for attention?
Their pandas' keepers showed off the eight cubs to the cameras at the Bifengxia Panda Base, situated in Sichuan, China to welcome in the Year of the Rooster on 28 January.
The date of the Chinese New Year varies in the Gregorian calendar as it is calculated on a lunar calendar, but it normally falls somewhere between 21 January and 20 February.
In London, streets are decorated with red paper lanterns and lights and feature a lion and dragon dance with performances in Trafalgar Square and China Town – it's one of the biggest Chinese New Year events outside China.
The festival goes back to the days when farmers celebrated a new year of harvest.
While over half of China's population is urban, more than a 100 million often return to their agricultural roots to celebrate Chinese New Year.
It is believed the God of Wealth bestows fortunes on his people on the fifth day of the festival and, on the ninth day, the birthday of King of Heaven, Jade Emperor, is celebrated. The official holiday lasts seven days.
The Rooster is 10th in the Chinese zodiac. Each year is related to an animal sign, according to a 12-year cycle. The Dog and the Pig will be next in 2018 and 2019.
People who are born in the year of the rooster, such as 1933, 1945 or 1957, are deemed to be hardworking, resourceful, courageous, and talented.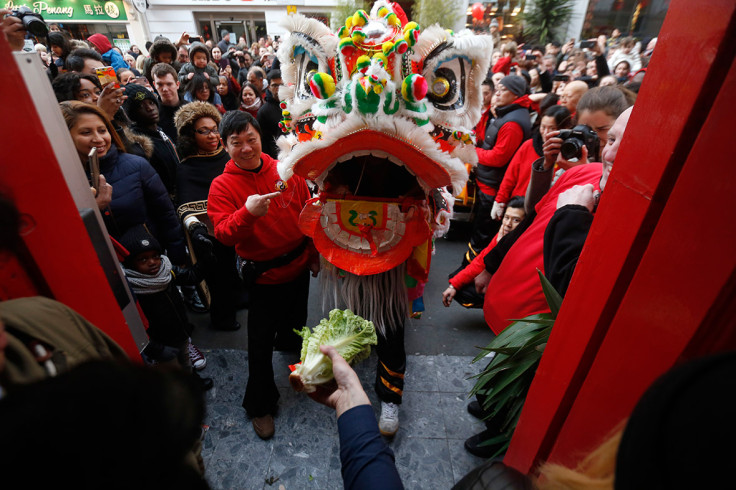 © Copyright IBTimes 2023. All rights reserved.