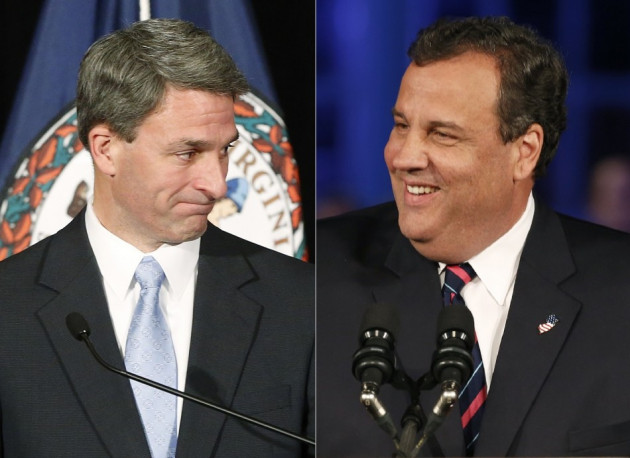 New Jersey moderate Republican governor Chris Christie won by a landslide a second term while Tea Party candidate Ken Cuccinelli narrowly lost to his Democratic opponent in a dead heat race for the Virginia governorship.
New Jersey and Virginia were the only two states to vote for a new governor a year after the presidential elections.
The races have been closely watched by analysts eager to see the voters' attitude in the wake of the ideological divide between moderates and hardliners that has been tearing apart the Republican party.
A pragmatic Republican, Christie, who is almost certainly to run for president in 2016, was easily confirmed governor in traditionally Democratic-leaning New Jersey.
Christie won 60.5% of the vote, against 38% for Democrat state senator Barbara Buono, becoming the first Republican in 25 years to win more than half the ballots in New Jersey, a state that voted overwhelmingly for President Barack Obama in 2012.
Christie, who was widely commended for the handling of the emergency caused by Hurricane Sandy, partially owed the impressive result to his cross-party appeal, a feature likely to boost his credentials as best Republican hope in 2016.
According to a CNN exit poll, the super-sized governor performed well with groups traditionally voting democrat.
He won 55% of the female vote, 20% of the African-American vote and 50% of the Latino vote.
"Thank you, New Jersey, for making me the luckiest guy in the world," Christie said in his victory speech.
"As your governor, it has never mattered where someone is from, whether they voted for me or not, what the colour of their skin was, or their political party," Christie said. "For me, being governor has always about getting the job done, first."
McAuliffe and Cuccinelli
In Virginia Democratic businessman Terry McAuliffe narrowly won a tight race against Cuccinelli at 47% to 45%.
"Over the next four years most Democrats and Republicans want to make Virginia a model of pragmatic leadership," McAuliffe said in his victory speech. "This is only possible if Virginia is the model for bipartisan cooperation."
The result came at the end of an electoral campaign, which saw the candidates interchanging personal attacks and takes on national issues, including the presidential-backed health care reform known as Obamacare.
Cuccinelli's close ties with the Tea Party reportedly cost him crucial votes.
The hard-line conservative wing of the Republican Party has been widely blamed for instigating last month's federal government shutdown, and its ideological stance was also criticised by moderate republicans such as Christie.
According to an exit poll conducted for The Associated Press about a third of Virginia voters said they were personally impacted by the shutdown, and nearly half said Republicans deserved the blame for it.
Cuccinelli performed well among traditional republican voters but was unable to scoop votes out of the Democrat pot as his colleague in New Jersey.
Electoral drift away from the Tea Party to more moderate positions was signalled also by a special congressional primary runoff election in Alabama.
Republicans in the conservative state chose establishment-backed Bradley Byrne over Tea Party's Dean Young as their candidate for a congressional seat from the state's 1st district.