Virginity tests on female army recruits should be abolished warns Human Rights Watch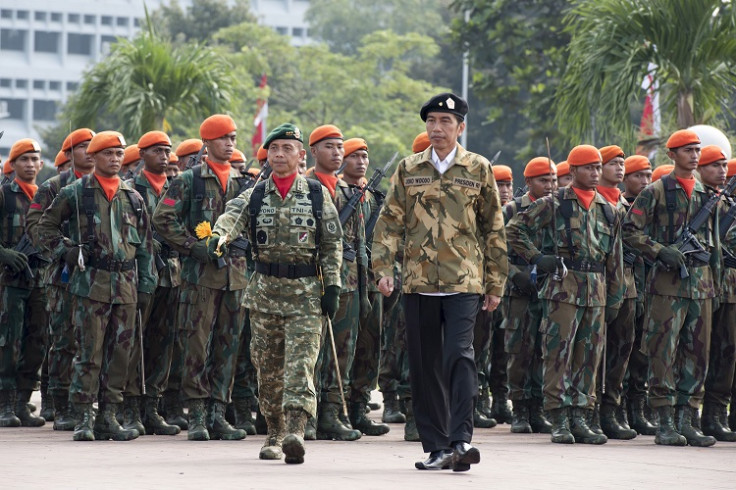 Virginity tests performed on wannabe Indonesian female army recruits should be outlawed, an activist group has warned.
Human Rights Watch is urging President Joko Widodo to stop the ancient "cruel, inhuman and degrading" practice with immediate effect.
The Indonesian military apply the "two finger test" (to ensure the hymen is intact) to women army recruits and even the fiancees of officers as a precaution to protect national security and not to tarnish the Muslim country's reputation.
But HRW said all military hospitals should now ban such gender-base violence as it contravened international human rights law.
HRW women's rights advocacy director Nisha Varia said: "The Indonesian armed forces should recognise that harmful and humiliating 'virginity tests' on women recruits does nothing to strengthen national security.
"President Joko Widodo should set the military straight and immediately abolish the requirement and prevent all military hospitals from administering it."
The HRW sent letters to the International Committee of Military Medicine (ICMM) and 16 member countries requesting the military to stop the tests. The Indonesian National Armed Forces has not yet responded.
They interviewed 11 women who endured the tests, who described them as "painful, embarrassing and traumatic". One woman said: "I felt humiliated. It was very tense. It's against the rights of every woman."
The World Health Organization issued guidelines in 2014 that stated there was "no place for virginity testing" as "it has no scientific validity".
Varia added: "The ICMM should make clear to the Indonesian military that this abusive practice has no place in a job application process or an individual's choice of whom to marry and should not be inflicted under a veneer of 'military medicine."
© Copyright IBTimes 2023. All rights reserved.