The Republican Party is presenting a united front publicly, but behind the scenes at least one top Republican in Congress had apparently voiced doubts over Donald Trump's connections to Russia before the controversy all began.
A month before Trump won the GOP nomination, House Majority Leader Kevin McCarthy reportedly claimed that Trump could be receiving payments from Russian President Vladimir Putin. "There's two people I think Putin pays: Rohrabacher and Trump," McCarthy (R-Calif.) said, according to a 15 June 2016 recording obtained by The Washington Post.
Representative Dana Rohrabacher, a fellow California Republican, is known to be a fierce defender of Russia and its president.
According to the Post, some of the lawmakers present laughed at McCarthy's comment, prompting him to add: "swear to God."
House Speaker Paul Ryan (R-Wis.) stopped McCarthy from continuing and asked the GOP lawmakers present to keep the remark a secret. "No leaks...This is how we know we're a real family here," Ryan said.
Brendan Buck, a spokesman for Ryan, and Matt Sparks, a spokesman for McCarthy, both initially denied the exchange ever happened.
However, the remarks were confirmed by Evan McMullin, who attended the 15 June conversation as policy director to the House Republican Conference. "It's true that Majority Leader McCarthy said that he thought candidate Trump was on the Kremlin's payroll. Speaker Ryan was concerned about that leaking," McMullin, a vocal critic of the president, said.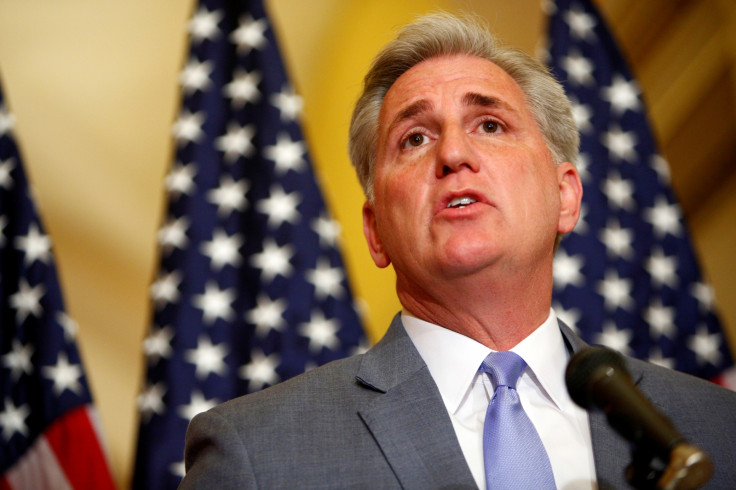 Following the Post's report, Ryan's office called the remarks a joke. "This entire year-old exchange was clearly an attempt at humour. No one believed the majority leader was seriously asserting that Donald Trump or any of our members were being paid by the Russians," Buck said.
"What's more, the speaker and leadership team have repeatedly spoken out against Russia's interference in our election, and the House continues to investigate that activity," Buck added.
Rohrabacher himself came to the defence of McCarthy, telling The Daily Beast's Tim Man that the majority leader "was just joking". He added: "He misspoke, my gosh. Like I've never misspoke? I've been here 30 years. You've got to be very careful when you're using humour."
Trump has attempted to downplay any potential links between his campaign and Moscow. On Wednesday (17 May), the US Department of Justice appointed former FBI Director Robert Mueller as special counsel of the federal investigation into Russia's interference in the 2016 presidential election.
In a statement released by the White House, the president said: "A thorough investigation will confirm what we already know—there was no illusion between my campaign and any foreign entity. I look forward to this matter concluding quickly."