Perhaps unwittingly, Vladimir Putin is starring in a series of calendars for the year ahead, using some of the many bizarre photos that have been taken of the Russian president over the years.
Remember that time he posed topless while fishing waist-deep? Or perhaps the time he showed off his judo skills, or even when he fell over playing ice hockey? Imagine Theresa May or Donald Trump letting press take these photos, let alone sharing them with the world.
The Vladimir Putin 2018 calendar, in several different designs, is now taking the internet by storm. Some months star the president at his most statesman-like, with others a little more unusual. In one of the wall calendars, being sold for £24,99, you can enjoy Putin holding a cat, gazing into the distance, straddling a motorbike and getting strapped into a light aircraft. Most strikingly, July features a topless Putin holding a rifle.
A cheaper design, being punted by the same eBay seller for £15.99, offers photos of Putin holding a puppy or a leopard, or in full ice hockey gear. Any of the calendars can be posted worldwide from Voronezh in Russia and each has just several thousand copies available.
Looking at his back catalogue, it is no wonder Putin is such good material for multiple calendar designs – he finds time for some extremely bizarre photo opportunities alongside his presidential work. Meanwhile just this week, Putin has seemingly just put his country on a war footing by telling businesses that they should be ready to switch production to military needs at any time.
See a preview of the calendars below along with some of the most bizarre photos of Putin taken in recent years.
A sneak peek of the calendars: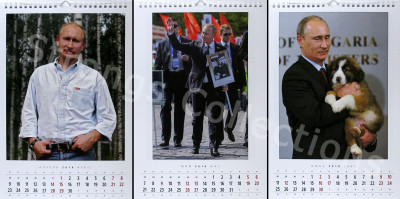 Putin and animals: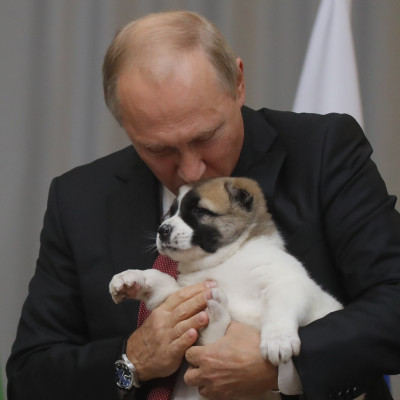 Putin kissed a Turkmen shepherd dog, locally known as Alabai, presented to him by Turkmenistan's President Gurbanguly Berdimuhamedov during a meeting in October. He is a dog person - also pictured is Putin playing with his own dog Yume, a female Akita Inu, before giving an interview to Japanese Nippon Television and Yomiuri newspaper at the Kremlin.
He was also pictured holding a leopard while visiting the Persian Leopard Breeding and Rehabilitation Centre in the Sochi national park, and patting a horse while on an expedition to Ubsunur Hollow Biosphere Preserve to inspect the snow leopard's habitat in Tyva Republic.
Putin and sports: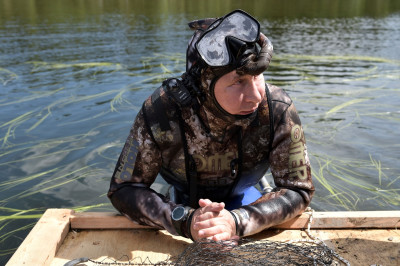 Putin took a hunting and fishing trip in August this year, and is here pictured resting after taking a swim. He also took a tumble while playing in a gala match of the hockey teams of the Night League at the Shayba Olympic Arena in Sochi in May, and he joined a training session of Russia's national judo team in January 2016.
Putin... topless?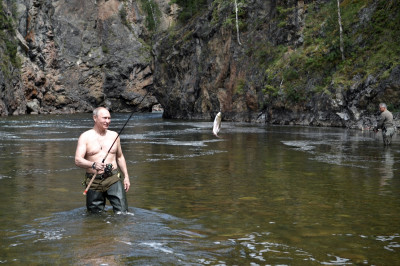 Putin enjoys fishing – the top and left photos were taken during his trip to the remote Tuva region in southern Siberia in early August this year. The third photo was taken back in 2007 on the Khemchik River, in the Republic of Tuva, when he stopped off ahead of a meeting of the Shanghai Cooperation Organization member states.