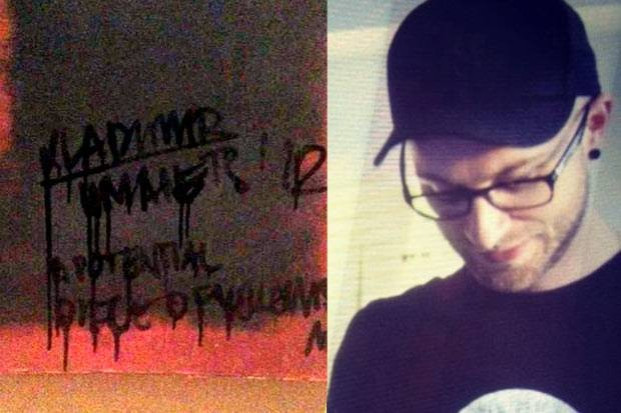 A homeless man has been arrested on connection with the defacement of a Mark Rothko painting at the Tate Modern in London.
Vladimir Umanets, 26, was arrested by Sussex Police on suspicion of causing criminal damage after Rothko's 1958 painting Black on Maroon was vandalised.
Umanets had previously admitted to defacing the mural by scrawling Vladimir Umanets, A Potential Piece of Yellowism across the canvas, but denies he is a vandal.
Umanets claimed he defaced the painting, donating to the Tate by Rothko shortly before his death in 1970, in a bid to raise awareness for the movement Yellowism - which he founded with another artists - and claimed his action would make the piece more valuable.
He told the Evening Standard: "I believe I can find something that is art and put it in the Yellowism concept. I want to take stuff from art and put it into Yellowism make it not less valuable and maybe even more.
"It's good people are shocked about what happened, no-one is realising what actually happened, everyone is just posting that the piece has been damaged or destroyed or defaced.
"But I believe that after a few years they will start looking for it from the right angle. So that's why I did it."
Eye witness Tom Wright described the incident via Twitter. He said: "This guy calmly walked up, took out a marker pen and tagged it. Surreal.
"We gave a description to the gallery. Very bizarre, he sat there for a while then just went for it and made a quick exit."
A photo of the painting was also uploaded onto the social network site.
Yellowism is described as a "phenomenon" rather than an artistic movement and follows the Yellowism manifesto penned by Umanets and Marcin Lodyga in 2010.
Umanets and Lodyga hosted an exhibition together in May entitled No One Lives Forever.
According to the website, the exhibition is described "brings together, in the surprising way, works presented before in the well-known galleries, transforms them into the pieces of yellowism".
The Tate does not have a value for Rothko's painting, but previous works of his have sold for tens of millions of pounds.
Earlier this year, his Orange, Red, Yellow work sold for £53.8 million - the highest price paid for a piece of post-war art at auction.