Supporters of GOP presidential candidate Donald Trump were attacked and chased by demonstrators who had gathered outside the McEnery Convention Center in San Jose, California where the real estate tycoon had addressed a rally on 2 June. The protesters shouted anti-Trump slogans and even burnt an American flag and Trump's Make America Great Again hats at the venue, reports said.
Trump supporters were reportedly punched and eggs were thrown at them, as they were exiting the venue. Jacob Rascon of NBC posted a video on Twitter which showed a Trump supporter being pelted with an egg.
In another video, a protester can be seen chasing and beating a Trump supporter. According to Associated Press, around a dozen people were chased on foot and were punched. Initially, police stood their ground, but intervened as scuffles broke out. There were no reports of major injuries to anybody, but police declared the gathering as unlawful assembly and arrested four people.
The demonstrators were seen holding placards that read, "Dump Trump", "Hate breeds hate" and some of them chanted anti-Trump slogans in English and Spanish, while waving Mexican flags.
Warning: Video below has graphic content.
Sergeant Enrique Garcia of San Jose Police Department said that the police had made an arrest, but did not provide details of the charges pressed against them. He said, "There has been no significant property damage reported. One officer was assaulted."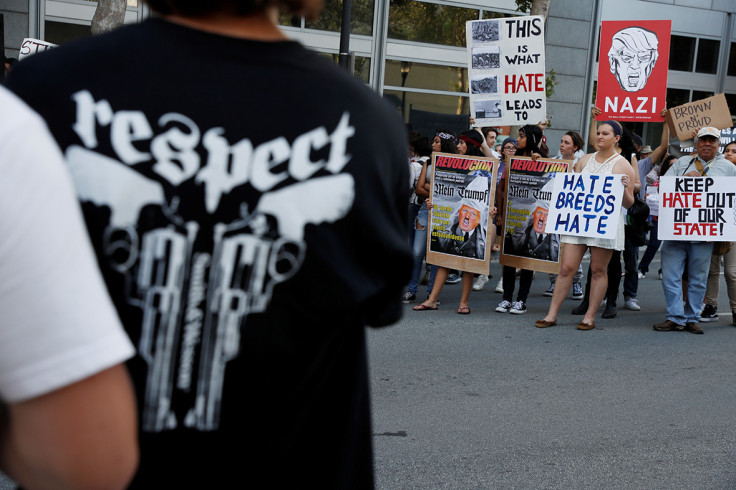 San Jose Mayor Sam Liccardo told AP on phone, "Our police officers have done an extremely courageous and professional job so far. We're all still holding our breath to see the outcome of this dangerous and explosive situation."
The mayor, who is a Hillary Clinton supporter added, "We don't appreciate [anyone] utilizing campaign tactics of demagoguery, and pitting members of our community against one another to propel their own political ambitions. At some point Donald Trump needs to take responsibility for the irresponsible behavior of his campaign."
A community college student, born in San Jose was quoted as saying, "For any one Mexican here he bashes, there are about 20 Mexicans out there who are hard-working and just doing their job."
Martha Gracia, another student from the area said: "It's sad to see San Jose representing like this. Trump is the one igniting the hate. You can't fight fire with fire."