A swell of seismic activity on Tenerife could indicate a long-dormant volcano on the holiday island could be about to blow, with volcanologists warning nearly 100 mini-tremors could signify an upcoming eruption.
Mount Teide, a 3km-high volcano in the south of Tenerife, last erupted in 1909, with an earlier eruption in the 18<sup>th Century destroying the town and principal port of Garachico, as well as several smaller villages.
Now volcanic experts are warning that a pattern of almost imperceptible earthquakes across the south-west of the island could cause Mount Teide to erupt once again.
"We are registering an important seismic rally on the island of Tenerife," Involcan, The Volcanology Institute of the Canary Islands said in a statement.
"In principle, these earthquakes are very low magnitude, consistent with those that occur in active volcanoes.
"The number of earthquakes is provisional pending the analysis of the signals more closely, but we can qualify this activity as a seismic swarm whose pattern is an alignment with prevailing direction north-east to south-west ".
Other worrying indicators include an "abnormal" amount of carbon dioxide coming from the volcano and surrounding areas as the earthquakes take place some 13km underground.
Aroa Gonzales, a reservations manager for Ritz Carlton in Tenerife which is near where the seismic activity is taking place, told IBTimes UK the earthquakes were too small to be felt but news of the possible eruption had swept across the island.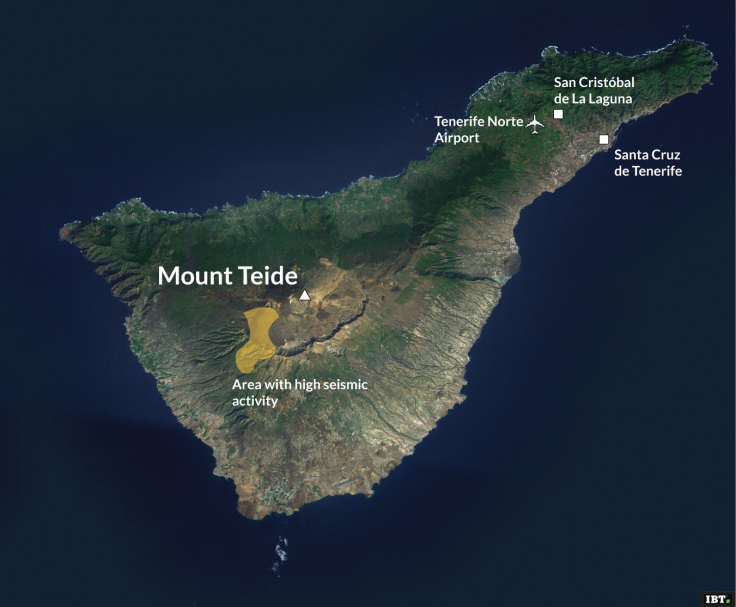 "The small earthquakes are very low ... I wouldn't say that because of these we are expecting a volcanic eruption. It is very, very, small activity and we are not preoccupied by it," she said.
Gonzales added that the micro earthquakes were not going to be a concern into the future and there had been no changes to reservations at the hotel, particularly over Christmas. which was a busy period.
"For Christmas we are almost fully booked. It is high season for us and our reservations numbers are very good," she explained.