A year on from the diesel emissions scandal, which is set to cost the company more than £10bn ($13bn), Volkswagen Group is preparing to develop up to five electric cars by the end of the decade.
The move towards a greener, electrified future will begin at the Paris Motor Show in late September, where VW will reveal a new electric hatchback concept. The vehicle will be a precursor to a range of up to five new electric cars from the brand, with production beginning in 2019 and sales starting the following year.
During a presentation at its Wolfsburg, Germany headquarters, VW made no effort to hide who it sees as its biggest rival. A slide shows how VW plans to supersede the Tesla Model X and Model 3, which have a theoretical range of 540km and around 345km respectively, with a car capable of travelling 600km (372 miles) between charges.
The five-seat concept to be revealed in Paris is described by VW as being smaller than a Golf, but with the interior space of the larger Passat saloon car, according to Autocar. The extra space is made possible thanks to electric motors taking up much less space than petrol or diesel engines, while large battery packs can be hidden in the floor. The concept is claimed to have a range of between 250 and 370 miles.
The concept will show off an all-new platform which VW will adjust and modify depending on the type of vehicle it is being used for. It is expected that different sizes of motor, battery and even body can be easily attached. It's a similar move to that of Tesla, which has two platforms; one for the Model S and Model X, and one for the smaller Model 3 and Model Y.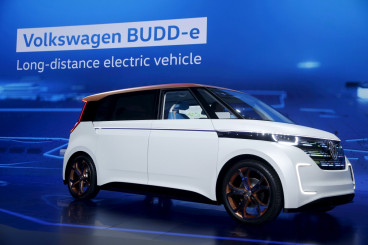 Volkswagen is looking to produce electric vehicles for several different sectors of the car market, just as Tesla is doing today. Smaller vehicles would have a target range of around 250 miles, while larger Sports Utility Vehicles, with space for bigger batteries, are most likely to reach the company's 372-mile target. The new vehicles all fit under VW's Strategy 2025 plan for change over the next nine years.
"We regard electric mobility at VW as a key positioning item for the future and believe VW will be a major player in this field for the future," VW sales and marketing boss Jurgen Stackmann told Auto Express, adding: "We see a mega challenge to do this in a short time."
As well as the Paris hatchback concept, VW is busy working on making the Budd-e concept revealed in January a reality. Insiders say the vehicle, which was shown off at the CES technology show in Las Vegas, is an electric reimagination of the iconic VW campervan and due on sale in 2019. After this, VW will turn to an electric replacement for its Phaeton luxury saloon car, an electric crossover SUV and a zero-emissions sports car.