Sweden's Volvo has named Martin Lundstedt, the head of Volkswagen-owned Scania, as its chief executive, replacing embattled boss Olof Persson.
Volvo, vying for global dominance with Germany's Daimler and VW's truck brands, also put out better than expected quarterly earnings and said it will seek an external partner for parts of its IT business, opening the door to a deal.
Lundstedt is a 25-year veteran at Scania. Volvo, in a 22 April statement, said that until Lundstedt assumes his new position, Jan Gurander, the group chief financial officer "will be acting president and chief executive officer of Volvo".
Shares in Volvo were trading 11.82% higher to SEK 113.5 at 10.35am in Stockholm, after surging some 16%, the biggest jump since February 2009.
The stock has gained some 33% so far this year, valuing Volvo at SEK 241bn (£18.6bn, €25.9bn, $27.9bn).
Shareholder pressure
Persson led a restructuring programme aimed at cutting SEK 10bn ($1.2 billion) in costs and boosting profitability to the level of more agile rivals such as Scania.
But with the programme having less than a year left to run and margins still below the level before it was launched, pressure on Persson from top owners such as activist fund Cevian Capital had been building.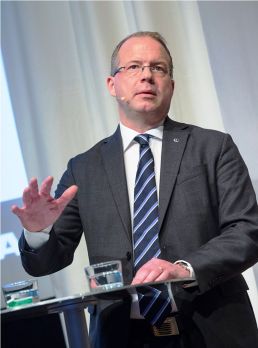 Christer Gardell, managing partner at Cevian, Volvo's second-biggest owner by votes, told Reuters: "The action program that Persson initiated seems to be biting and he should get credibility for that,"
"But at the same time we support the board's decision to appoint Martin Lundstedt, who is widely recognised as one of the best leaders in the trucking world. Now he has the assignment to make Volvo the world's best trucks company.
Earlier, Volvo Chairman Carl-Henric Svanberg, said Lundstedt was being brought in to lead the next phase for Volvo.
"After three years of focus on product renewal, internal efficiency and restructuring, the Volvo Group is gradually entering a new phase with an intensified focus on growth and increased profitability
"...Lundstedt has 25 years of experience from development, production and sales within the commercial vehicle industry. He is also known for his winning leadership style."
Volvo also makes buses, construction equipment and boat engines.