Volvo uses Microsoft HoloLens to bring your virtual car into the showroom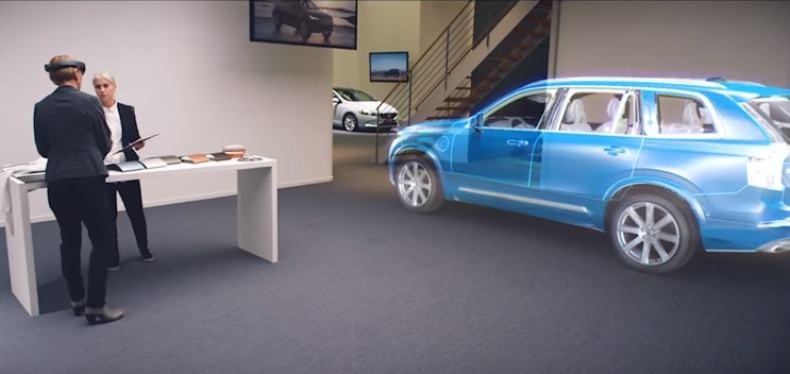 Volvo will use the Microsoft HoloLens headset to show customers what their cars will look like before they are built. The augmented reality gadget shows lifelike holograms of vehicles, projected in front of potential buyers in a car showroom.
Customers wanting to see what a certain colour looks like, or if the interior they have chosen matches the paintwork, by strapping HoloLens to their head and watching what Volvo and Microsoft call "mixed reality" 3D models of their future car.
Details of how the car works, how it is powered, and demonstrations of Volvo's safety features can be shown off through HoloLens. Potential buyers and showroom staff all wear the headset, each seeing the same hologram beamed out in front of them. HoloLens blends virtual reality with the real world, creating the illusion of a car to the customer's exact specifications appearing in the showroom.
The Microsoft HoloLens is a standalone holographic computer that has the potential to change the way we use computers
IBTimes UK
Customers can change the car's colour and wheels by using the Hologram's "air tap" gesture – essentially lifting a finger to interact with a user interface projected into their eyes. Anyone wearing HoloLens can walk around the virtual, life-size car to inspect it from every angle.
Speaking to The Verge, Volvo senior marketing vice president Bjorn Annwall said: "People aren't reading car manuals or user manuals much anymore, and there's so much they miss.
But the system isn't perfect. Early impressions of HoloLens – including those of IBTimes UK –reveal how the holograms seen by the user are not as large as they appear in Microsoft's simulations and marketing material. These are hopefully teething problems which Microsoft can overcome before HoloLens goes on general sale, both to consumers looking to game with it, and businesses like Volvo hoping to benefit from holograms.