Is VR coming to Twitter? Platform introduces support for 360-degree videos through Periscope
Move suggests Twitter is sizing up the potential of virtual reality on the platform.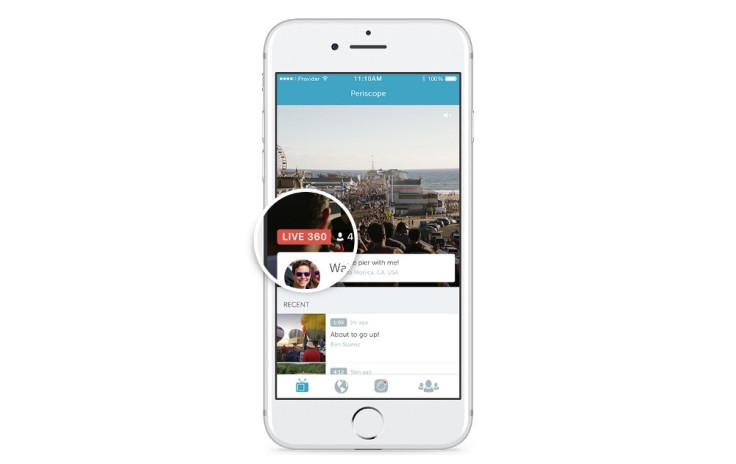 Twitter could be dipping its toe in the virtual reality pond after introducing support for 360-degree videos. Users will be able to tune into immersive videos shot by broadcasters in 360-degrees on their smartphones, suggesting support for virtual reality headsets could be in the pipeline.
While Twitter has yet to announce any concrete plans for virtual reality (VR) or augmented reality (AR) devices, adding support for 360-degree content is telling. Indeed, Wednesday's announcement came from Alessandro Sabatelli, the company's director of AR and VR, who said the videos would allow user to "get an inside look with well-known personalities and go behind the scenes at exclusive events."
360-degree videos will be supported through Periscope, a live-streaming platform owned by Twitter that was recently integrated directly into Twitter's Android and iOS apps. Applicable videos will be marked on Twitter with a "LIVE 360" badge and users will be able to interact with them and change what they see by swiping the screen, or moving their phone.
Initially only a handful of Twitter partners will be able to stream live 360-degree videos through Periscope, although the companies suggested that this would be broadened to additional broadcasters in the near future.
Periscope said in a blog post on Medium: "With 360 video on Periscope, you can experience moments with the broadcaster and take a look around –  it's one step closer to actually being there. Starting today, you'll be able to join live 360 videos on Periscope and Twitter from some incredible broadcasters –  getting front-row access at exclusive events, travelling to places across the globe, and getting up close with well-known personalities.
"Live 360 video isn't just about taking you to places you've never been; it's about connecting you with people and letting you experience something new with them. With these videos, the broadcaster anchors the experience so you can be present with them from whatever environment they're sharing from."
© Copyright IBTimes 2023. All rights reserved.