Los Angeles is grappling with a huge homelessness problem; the number of people living on the streets is estimated at about 44,000. Many of them are concentrated in Skid Row – a 54-block area of downtown LA that has become synonymous with homelessness and poverty. More and more can be seen across the sprawling metropolis of some 10 million people, sheltering under highway overpasses, or in ragged tent encampments, or in cars and motorhomes lining the streets.
The outlook for the next few months is bleak, as El Nino weather patterns are likely to bring torrential downpours, adding to the misery of the thousands of people sleeping in flimsy tents and rusty old vehicles.
Reuters photographer Lucy Nicholson met some of the people living on the city's streets. While most people might expect the homeless to be largely single, middle-aged men struggling with mental illness and substance abuse, there are also many vulnerable women and elderly men from a variety of backgrounds whose lives were hit by many different circumstances. As they posed for portraits, they shared their stories.
Karen Souza, 55, has been homeless for a decade. She originally became homeless after her spouse was arrested. "My whole world crumbled, my teenagers ran out of control and it just got bad." Karen now lives in a tent under a freeway on a street in LA with her dog Handsome.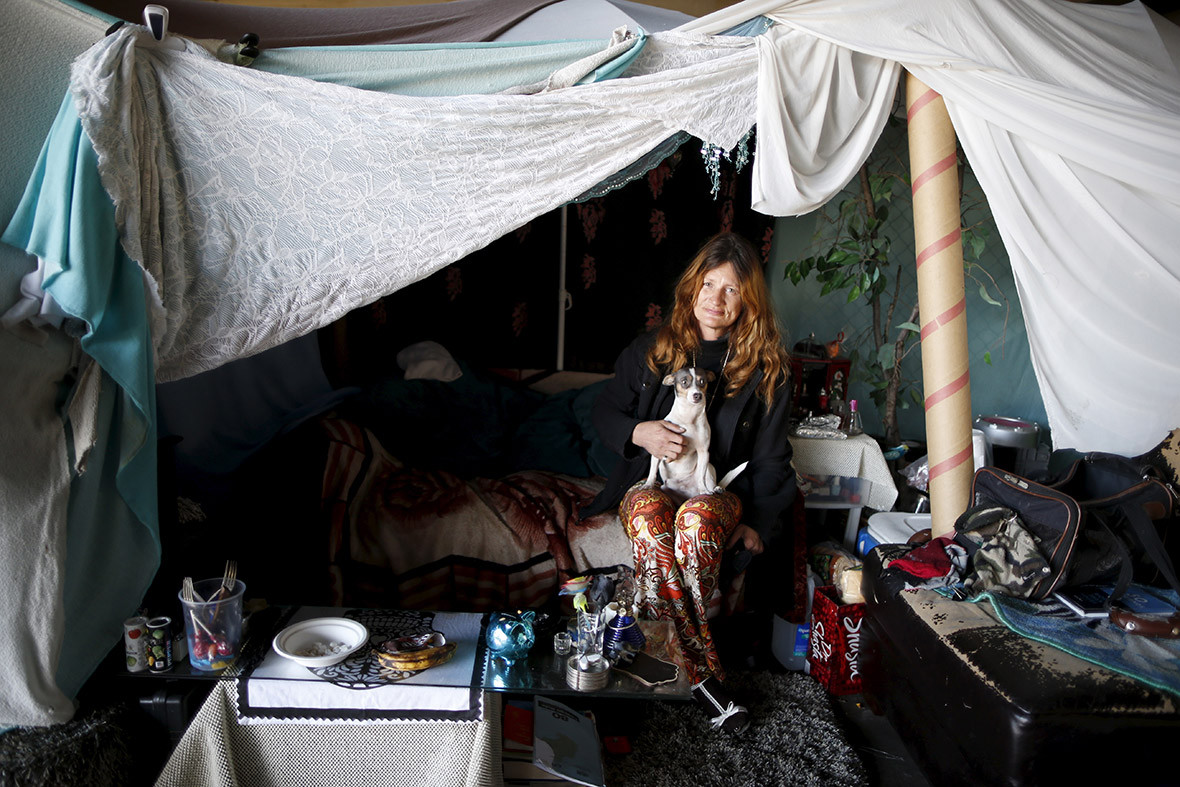 Pamela Polk, 56, became homeless a few months ago when she was evicted from her apartment. She had to borrow money from a friend to buy a motorhome. "It's horrible living here. Matter of fact, I'm sick of this. I can cook but it's not like being in your place. I can't take a bath. I have to go places to take a bath," she said.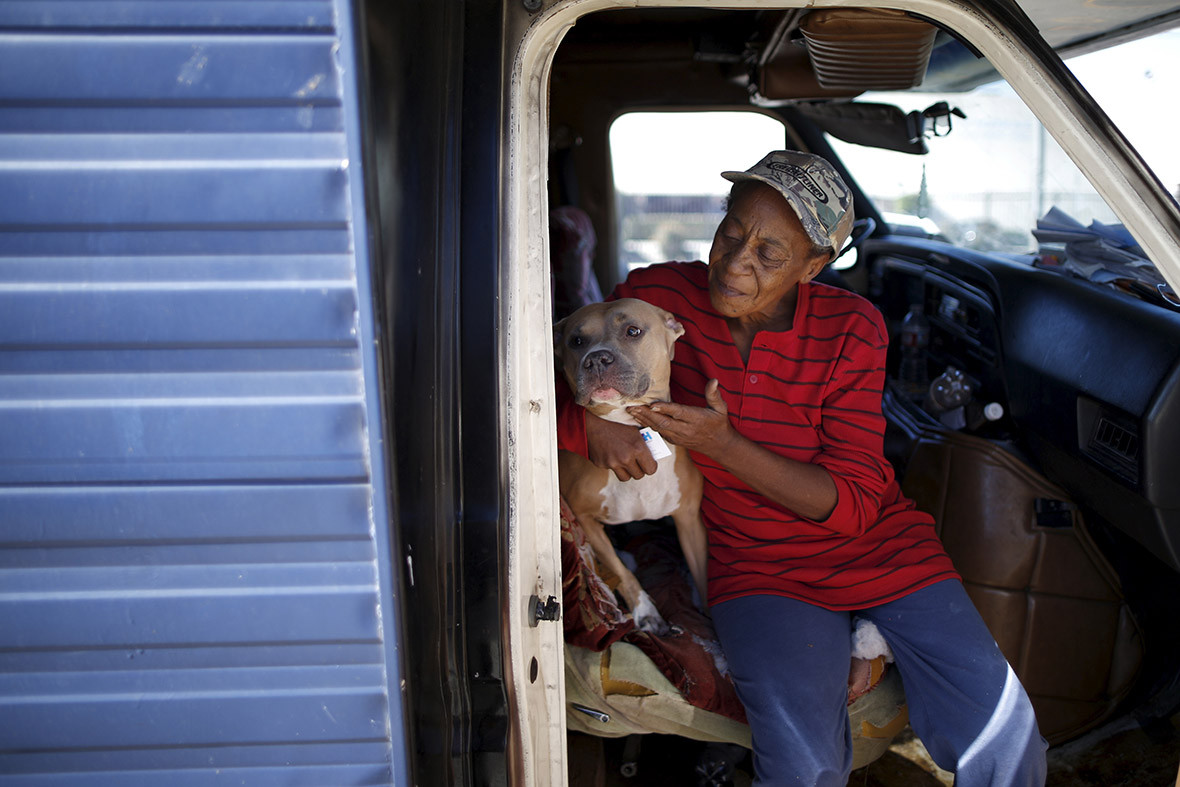 Retired trucker Samuel Cole, 85, has lived in a camper van for the past two years after his landlord raised the rent by $100. Vandals broke his generator, so he no longer has electricity. Like so many others, he said that a lack of running water is one of his biggest problems. "I just have to wash off best I can," Cole said. "Very difficult."
Victor Augustine, 53, has been homeless for two years and sleeps in his Cadillac at a homeless motorhome and tent encampment near LAX airport. Things may be looking up, as he has recently found work as a part-time security guard.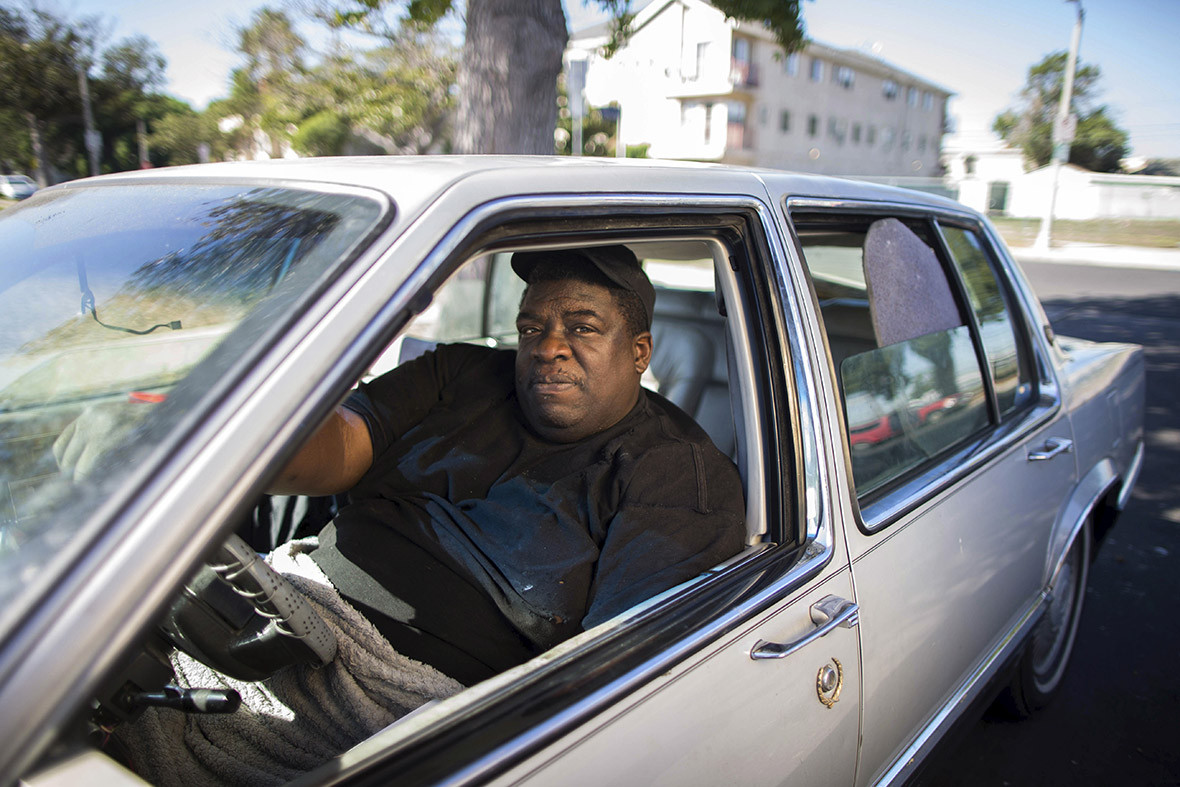 The number of makeshift tents and vehicles used by the homeless has shot up by 85% in just the last two years to 9,535, according to the Los Angeles Homeless Services Authority, an independent agency set up by the city and the county. "It is a crisis in LA, and I don't think people realise the magnitude of it," said John Kump, an outreach programme manager at the charity People Assisting the Homeless (PATH).
Los Angeles residents pay a higher percentage of their income in rent than any other US city, according to a UCLA study.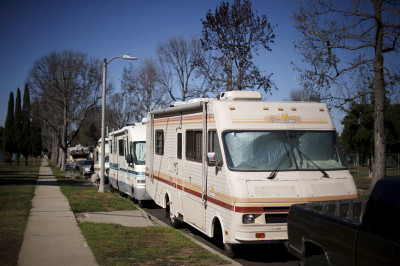 The health and wellbeing of the homeless will be even more at risk when the expected rainstorms begin, advocates say. The last two El Ninos, in the winters of 1982-83 and 1997-98, each hit Los Angeles with more than 75 cm of rain – double the amount that the city normally receives each year – according to William Patzert, a climatologist at Nasa's Jet Propulsion Laboratory near Pasadena, California.
Gary Blasi, professor of law emeritus at UCLA, writing in the Los Angeles Times, said many homeless people could die if a state of emergency is not declared, as it could ensure some short-term housing solutions. The homeless desperately need pallets to raise their tents off the sidewalks, he wrote, as well as heavy-duty tarpaulins, toilets, rubbish collection, and portable showers. He also called for the repeal of a ruling that makes it a crime for homeless people in Los Angeles to refuse to break down tents on pavements during the day.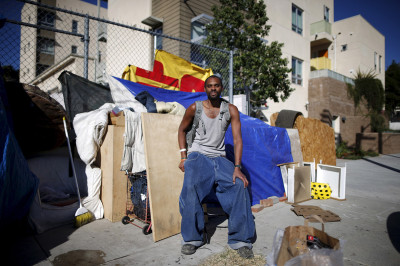 In September 2015, Mayor Eric Garcetti proposed spending $100m (£67m) to combat the homelessness problem. But he stopped short of declaring a state of emergency that would lift barriers to housing people, or calling on the governor and federal government for funding. In November, the city council gave initial approval to a plan to shelter the homeless in public buildings and to allow people living in cars to stay overnight in designated parking lots. But many people are reluctant to leave their possessions and pets on the streets in exchange for a night of shelter.