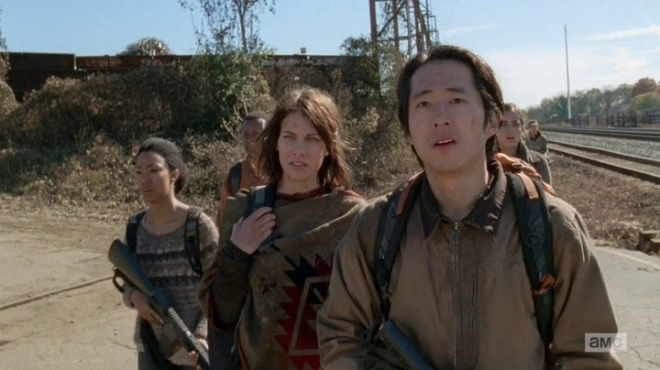 The stars of AMC's hit zombie show The Walking Dead are all heading back to begin shooting on season five.
After season four's cliffhanger, fans are eager to see what happens next. Most of the cast have been trapped in a train car at Terminus – the suspected cannibal community – but some are elsewhere, such as Beth, Tyrese and Carol.
Lawrence Galliard Jr, who plays Bob Stookey, Sonequa Martin-Green, who plays Sasha, both tweeted about their returns. Josh McDermitt, who was introduced in season four as Eugene posted a picture of him and Alanna Masterson, who plays Tara, on Instagram.
Gossip site Wet Paint have also noted that Emily Kinney – who plays Beth - has yet to return to set. They also cite The Spoiling Dead fan page, who note that actors Melissa McBride (Carol) and Chad Coleman (Tyreese) are also absent – likely meaning that the three characters will film their scenes at a later date.
What this means is that the characters may be absent from the show's season five premiere this autumn.
Fans have been speculating about the new season since the finale aired, with numerous theories about whether Terminus is indeed a community of cannibals.
The Walking Dead season five will air this October.