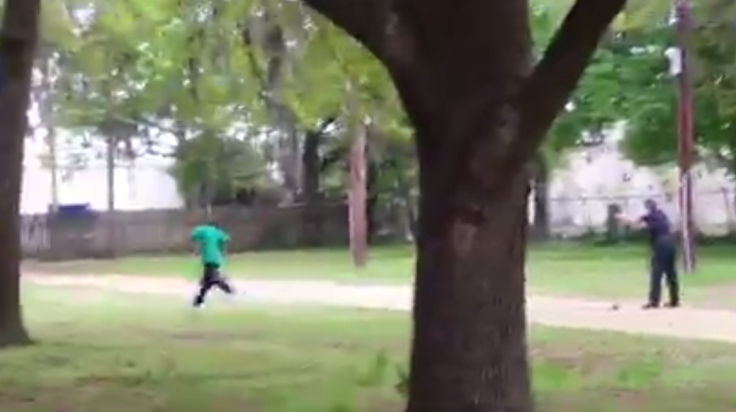 US police reports have come under scrutiny after a graphic video published by the New York Times showed white police officer Michael Slager shooting in the back and killing an apparently unarmed black man in North Charleston, South Carolina.
Slager, 33, has been arrested and charged with murder after the footage, taken by a bystander, showed him firing eight times as the man, 50-year-old Walter Scott, fled. The policeman also appears to be seen placing an object near his dead body.
Earlier reports, however, painted a very different scene. The incident began when the police officer reportedly stopped Scott over a broken light on his Mercedes-Benz. The 50-year-old tried to flee from Slager before turning to wrestle for the officer's Taser.
Slager told authorities he "feared for his life" when Scott took his stun gun during a traffic stop and fired, according to a report on the local The Post and Courier:
After the struggle, Slager reported on his radio: "Shots fired and the subject is down. He took my Taser."
A statement released by North Charleston police spokesman Spencer Pryor said that a man "ran on foot from the traffic stop and an officer deployed his department-issued Taser in an attempt to stop him", according to The Post and Courier.
Scott's lawyer David Aylor said that his client "properly followed all procedures and policies before resorting to deadly force".
"When confronted, Officer Slager reached for his Taser — as trained by the department — and then a struggle ensued," Aylor said, according to The Post and Courier. "The driver tried to overpower officer Slager in an effort to take his Taser."
However, the New York Times video, obtained by Scott's lawyers, appears to offer a contradictory version of events. It starts after Slager fired his stun gun and depicts the two men scuffling. Scott turns to run and something is tossed to the ground as Slager draws his gun.
The officer then shoots eight times as Scott is already 15 to 20 feet away, running. He drops dead after the last shot. Slager orders Scott to put his hands behind his back and then handcuffs his wrists.
Then, the policeman returns to the place where they scuffled and picks something from the ground. After a few seconds, he appears to drop the stun gun near Scott's body.
"When you're wrong, you're wrong," North Charleston Mayor Keith Summey said during a news conference. "And if you make a bad decision, don't care if you're behind the shield or just a citizen on the street, you have to live by that decision."