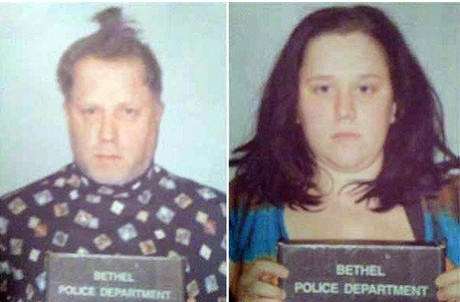 An aspiring porn star and her father are facing incest charges after authorities discovered that they had begun a sexual relationship and had a son together.
George Sayers Jr and Tiffany Hartford of Bethel in western Connecticut were taken in into custody after DNA results showed that 46-year-old Sayers was the father of both Hartford and her baby.
The couple claim that they were not certain they were related when they began their sexual relationship.
They have been charged with third-degree sexual assault, obscenity and conspiracy to which they both pleaded not guilty. Their son is in state custody.
Sayers is also accused of impregnating his daughter, filming her having sex with another woman and selling the footage online without consent, the Daily News reports.
Police began investigating the couple in February when Hartford's then girlfriend raised the alarm.
The woman, who has not been named, complained to police that the couple were distributing porn which featured her without seeking her permission to sell the videos and photographs.
Investigating officers were told by a relative of the suspects that their relationship may have been incestuous.
"Tiffany is his girlfriend but we also think that she is his daughter," the relative said.
Sayers was being held on $100,000 bail and Hartford was on $25,000 bail.
The couple face a maximum sentence of five years and a fine of up to $5,000.