It's easy to use the internet to find a handyman or dog walker for the jobs you can't or don't want to do, and now there's even a service that for just $10 (£6) will do the dirty deed of breaking up with your other half for you. For those who can't find the words (or backbone) to end a relationship by themselves The Breakup Shop will "handle the messy work of the break up" via a text ($10, £6), phone call ($29, £19) or letter ($30, £19.60).
If your guilt is going into overdrive, you can go all-out and purchase a Breakup Gift Pack for $80 (£52) to help jilted exes get over the whole affair, which thoughtfully includes a copy of Call of Duty: Ghosts, a $30 Netflix gift card, a Blu-ray copy of The Notebook, a pack of cookies and a sympathy letter.
The $10 breakup text consists of a personalised break up message created by the company's "expert break up team" who get in touch with the dumper to arrange details and timing of the deed. It can take up to three days to deploy but for those who want to cut loose quickly there's a rush break up option for $20 that gets it done within 24-hours.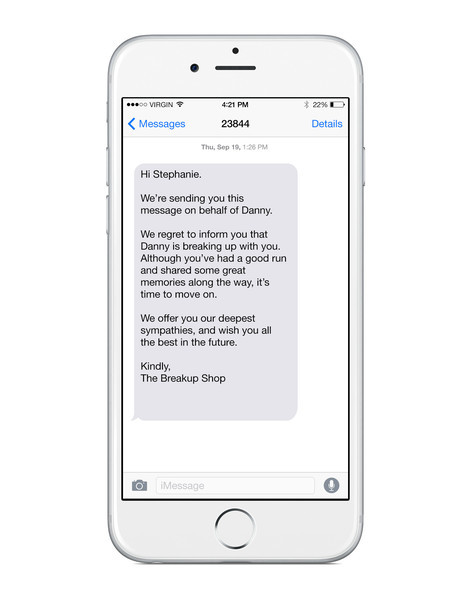 If you'd rather go for the more personal approach, the break up phone call option offers a one-minute message from a real person who relays the bad news – although if you're dating the type of person who dumps you via a stranger, it might not be bad news after all.
Then there's a letter, which claims to "add a touch of class to your low-blow" with a sophisticated, old-fashioned message. The example on The Breakup Shop's website reads more like a rejection letter for a job application than relationship with the opening line "we regret to inform you" and phrases like "we wish you all the best in the future". They even go so far as including the company return address if you don't want angry exes knowing your new whereabouts.
You'd be forgiven for thinking this is just another internet hoax but this is actually a genuine service. It's being dubbed "the Uber for break ups" and is created by two Canadian brothers who are keeping their full names private. It was tested out by a Motherboard writer, who used the phone call option on his girlfriend (he told her in advance it was just a test) – it was as awkward as expected with the caller even going off-piste and citing incorrect reasons of marriage pressure for the "break up".
Well, there you go. If you want to drop a bombshell before you start buying Christmas gifts, here's your chance. It may seem a bit tongue-in-cheek but, seriously, any guys who use this don't be surprised to get a knee-in-crotch.