The Vatican has reportedly advised Pope Francis not to travel to war-torn South Sudan as it is too dangerous, according to Italian media.
The pontiff and the Archbishop of Canterbury, Justin Welby, had planned to travel to Juba together as part of a project to promote peace in the African country, where a civil war has killed thousands.
Although the date and details of the trip had not been officially announced, Francis was supposed to travel to South Sudan in October or November.
However, the Vatican fears security measures to ensure the pontiff's safety cannot be implemented as fighting is continuing in the country, according to Il Messaggero.
The news outlet reported on 30 May that information received by the Vatican, which had been studying details of the trip for months, did not give the Pope much choice but to cancel the visit, at least for now.It is not clear whether Welby will travel to South Sudan.
Vatican News, the Vatican's official news site, has not reported any news on this matter. IBTimes UK has contacted the Vatican for a comment on the pope's possible visit to South Sudan, but has not received a response at the time of publishing.
In January, a delegation of bishops from both Sudan and South Sudan had travelled to Rome. South Sudanese bishops officially invited the pope to travel to their country, hoping he would help promote peace.
"The situation [in South Sudan] is very bad, but they want peace and together, we are working to achieve peace, " the pontiff said, after meeting the bishops.
Christianity is one of the majour religions in South Sudan, although the percentage of Christians in the country is not clear. President Salva Kiir is a Roman Catholic.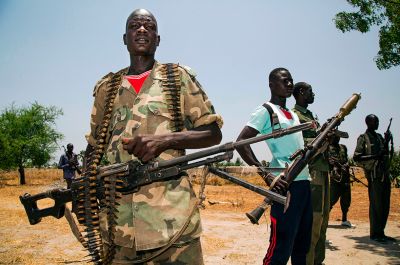 War in South Sudan
The South Sudan conflict erupted in 2013 when Kiir, of the Dinka ethnic group, fired his deputy Riek Machar – from the Nuer group – who then became a rebel leader.
Kiir and Machar have agreed on several peace deals – the last of which was signed in August 2015 – but have failed to control their troops, who have broken every ceasefire since 2014.
Machar fled South Sudan following deadly fighting in the capital Juba in July 2016. In an exclusive interview with IBTimes UK, the leader said last November he was ready to go home, However, he has not returned yet.
The South Sudanese government – which has been hit by a string of high-level resignations – had agreed earlier this year to declare a unilateral ceasefire to promote peace. Earlier in May, rebels loyal to Machar rejected a government's offer for a dialogue.
Violence has continued since, amid fears ethnic cleaning might be underway in some areas of the country.
Fighting has killed an estimated 50,000 people, amid allegations of crimes against humanity committed by both sides, including rape, torture and the use of child soldiers. The UN has several times warned the country is on the verge of a Rwanda-style genocide.
People continue to flee to neighbouring countries to escape violence, famine and a drought. The mass exodus has been deemed "Africa's worst refugee crisis". More than 2 million people are internally displaced.
Earlier this month, the UN confirmed that dozens of peacekeepers, part of a 4,000-strong UN contingent, had arrived in South Sudan, eight months after the UN Security Council had approved the deployment.
South Sudan had initially opposed to the deployment of the troops, but later changed its position.
The additional troops will join an existing 12,500-strong peacekeeping contingent tasked with protecting civilians in South Sudan, where a civil war erupted in 2013.
At least 7,000 of the peacekeepers were originally deployed in 2011 to help "consolidate peace" in the country after it gained independence from Sudan earlier that year.