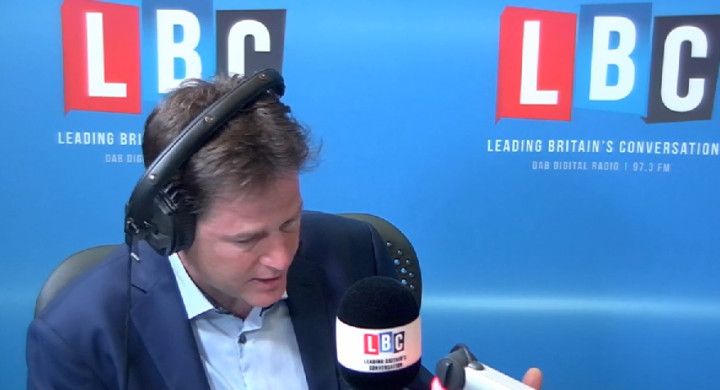 Questions have been raised about whether a nine-year-old boy who "ripped Nick Clegg to pieces" during his weekly radio phone-in was actually a mischievous fully grown woman.
The deputy prime minster was taking questions on his LBC radio show Call Clegg about his flagship policy to offer free school meals to all children under the age of seven.
During the show, a particularly articulate nine-year-old boy named Rohan rang up to question Clegg about the policy and claims school meals are "quite unhealthy and the evidence shows they don't make children achieve better".
Clegg, who asked the child why he was not at school and ringing the morning show instead, replied that evidence shows free school meals have been "extremely helpful" in schools where they have been introduced in the past.
He added: "Not only does it save mums and dads money -- about £400 a year to pay for the lunchtime costs -- it's not only good for your health because... but quite a lot of children go to school with lunch boxes which don't have very healthy food in them, I don't know, a slice of white bread with some chocolate spread and a fizzy drink, where it is better to have a proper cooked hot, healthy meal with vegetables and so on."
However, Rohan further grilled Clegg about the policy, suggesting that in a lot of schools many of the parents "could afford already to pay for those meals" and asked whether Clegg should just "target the areas" where parents couldn't afford to pay for the meals.
Clegg sounded suspicious about Rohan's age and jokingly asked if he was actually a teacher at a school. "Actually the children who benefit the most are the children who are poor, who are not wealthy, who don't have lots of money," said Clegg.
"There are about four in ten children in our country who are categorised as being poor [and] there are lots and lots of children who the Government says are in poverty, don't receive free school meals."
Clegg also added Rohan should go into politics for sounding so mature at such a young age.
Some listeners to the show suggested that Clegg's policy was "torn apart" by the nine-year-old but there were others who have since suggested the mature sounding child may have actually been an adult woman.
The popular political blog Guido Fawkes also claimed sources close to Clegg are "positive" he has been done over.
An LBC spokesperson said: "The LBC production team spoke to the boy and his mum, and we were confident the caller was genuine."
The full interview can be heard here: