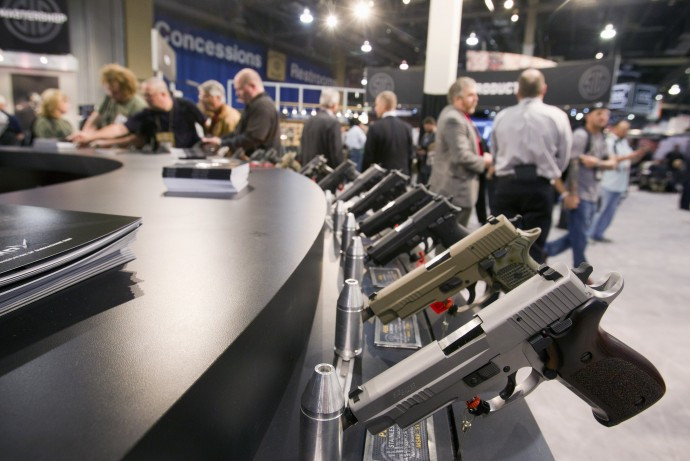 In a historic victory for gun control legislation in the United States, the people of Washington have voted to pass a law demanding more stringent and expansive background checks on gun purchasers.
The ballot, named Initiative 594, will effectively close what is known as the "gun show loophole" in the state. The loophole meant private sellers at gun shows were not legally required to perform a background check on private buyers.
Almost 60% of voters supported the gun control measure, the passing of which means even private buyers of firearms must undergo strict criminal background checks.
The passage of 594 marks a significant victory for the state's gun-control movement, which has picked up steam since the mass murder of young children at a shooting in a Newton, Connecticut elementary school.
Taking on the NRA at state-level
The measure is also a resounding success for the strength of state-level democracy and displays that, despite the concerns of the National Rifle Association (NRA), stricter gun laws are wanted by a majority of American people in some states.
On a national level, Congress has been reluctant to take on the NRA and well-financed weapons manufacturers over gun restrictions due to their extreme wealth and political power.
"As the first state to pass this by popular vote, Washington has sent a message of hope to other states that progress is possible: We can act to prevent gun violence", Seattle Mayor Ed Murray told the Seattle Post Intelligencer. "Our goal has never been about finding a single solution that will end gun violence once and for all. Instead, our goal has been to enact a sound system of common sense rules that can, by working in concert, make an enormous difference."
Why isn't this good news getting more attention: RT @PaladinCornelia Gun control wins in WA http://t.co/bUhIlG5Efg #MomsDemand #YesOn594

— bradmeacham (@bradmeacham) November 6, 2014
The NRA hit back against the measure by putting a rival initiative on the ballot. The initiative proposed the state be banned by enacting any gun-control measure not part of federal law and got 44% of the vote.
The Washington campaign for Initiative 594 was supported with donations totalling more than $10 million dollars. Donors included Bill Gates and Everytown for Gun Safety – a group launched by former New York City Mayor Michael Bloomberg.
The state is seen as a national trendsetter for major political and social issues. In 2008, Washington legalised physician-assisted suicide, in 2009 it recognised same-sex civil unions and in 2012 legalised the recreational use of marijuana.