Thirteen school shootings have been recorded in the US in the first six weeks of the year - more than double the 2013 average, advocates of gun control have pointed out.
Since the Sandy Hook school massacre in December 2012, in which 26 people were shot dead by a lone gunman, there was an average of under three school shootings a month across the US in 2013.
According to the joint analysis by Moms Demand Action and Mayors Against Illegal Guns, there have been there have been at least 44 fatal and non-fatal assaults, suicides, and unintentional shootings since the Sandy Hook elementary school shooting in Newtown, Connecticut. The death toll stands at 28.
The study is set to kickstart the debate on US gun control laws which flared up in the wake of the Sandy Hook shooting but has gone quiet since.
The campaign groups criticised Washington for failing to legislate for tighter controlss such as like background checks on all gun sales.
The study shows that of all the school shootings in American elementary, middle or secondary schools since December 2012, eight of the shooters were under the age of 16 and included one five-year-old.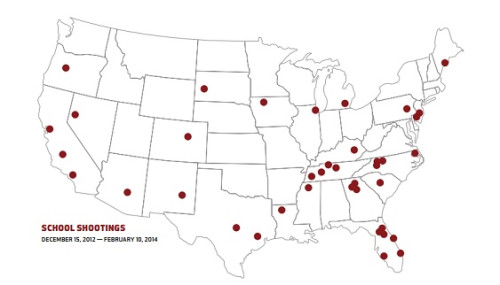 Shannon Watts, founder of Moms Demand Action, said: "We are a developed country, and we have to ask ourselves what is wrong with our culture and laws that's creating an environment where not only do we have 44 school shootings in the past 14 months – but we are doing nothing about it."
Chris Murphy, Democratic senator for Connecticut, added: "We're only six weeks into 2014, but already 13 schools have been forced to lock down under the threat of gun violence. No parent should have to fear for the life of their child when they drop them off at school.
"We can do more to prevent these tragedies, and it's time for Congress to wake up and do the right thing."
The study shows that of the 44 shootings across 24 states, 64% took place happened at elementary, middle or secondary schools - known as K-12 schools - with the remaining 36% on college and university campuses.
21 October 2013 Sparks Middle School, Nevada
12-Year-old Jose Reyes fatally shot his teacher and wounded two other students using 9mm semi-automatic Ruger handgun before killing himself. He found the gun in an unlocked shelf above the refrigerator at his home.
Almost half the 44 shootings involved at least one death, including seven suicides. The study adds that among those shootings where it was possible to determine the source of the firearm, three-quarters of the shooters obtained their guns from home.
The school shooting involving a five-year-old occurred at Westside Elementary school in Memphis, Tennessee in August 2013. The boy brought the gun into school in his backpack and it accidently discharged, No one was injured.
"The numbers are clear: we are not doing enough to keep our children safe at school," said Carolyn McCarthy, Democratic Congresswoman for New York. "We don't have to choose between protecting the Second Amendment [the constituional right to bear arms] and installing sensible safety measures that keep guns out of the wrong hands."