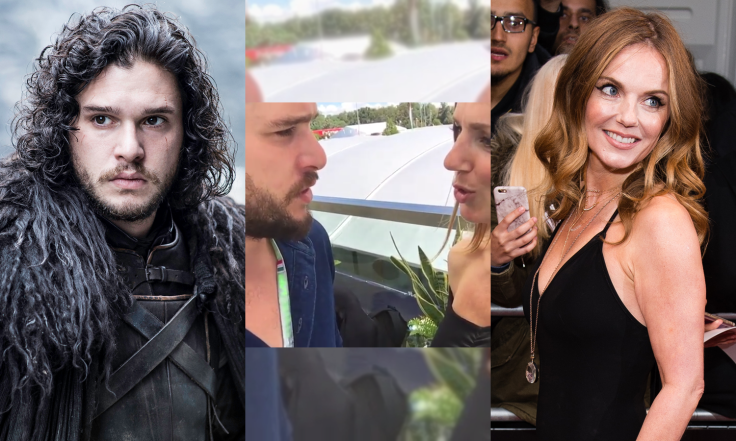 Spice Girl Geri Halliwell has shared a video on Instagram in which Game of Thrones star Kit Harington teaches her how to say the famous line, 'You know nothing, Jon Snow,' from HBO's hit fantasy series.
The line, which addresses Harington's character, was first said in George RR Martin's book A Storm of Swords by character Ygritte, and is said in the television series repeatedly by the character, played by Rose Leslie who happens to be Harington's real life girlfriend.
In the Instagram video shared on Sunday, Halliwell says the line repeatedly to Harington, who coaches her in how to deliver the line with the emphasis and accent Leslie did.
The 30-year-old British actor thought the former Spice Girl, known as Ginger Spice, had nailed it at one point. "Yeah. That's it! You got the part!" but she quickly lost it again.
The video was filmed at the Italian Formula One Grand Prix over the weekend, at the famous Autodromo Nazionale Monza course where Lewis Hamilton cruised to victory having started on pole position for a record 69th time in his career.
The win also put Hamilton at the top of the championship table for the first time this season, bumping Ferrari's Sebastian Vettel down to second. The pair's battle is sure to be tightly contested as this year's F1 title is decided.
Harington was there as a guest alongside fellow Game of Thrones actor Liam Cunningham, who plays Davos Seaworth on the show. The pair were interviewed by Sky Sports' Martin Brundle on the grid ahead of the race.
Halliwell is a regular on the Formula One circuit having married Red Bull team principal Christian Horner in 2015.
The most recent season of Game of Thrones finished in style in August, delighting fans around the world. The first episode of the season included a well-publicised and derided cameo from singer-songwriter Ed Sheeran, so could Gerri be the pop world's next star in line for a bit part in the series?
Game of Thrones is expected to return for its eighth and final season in 2019.