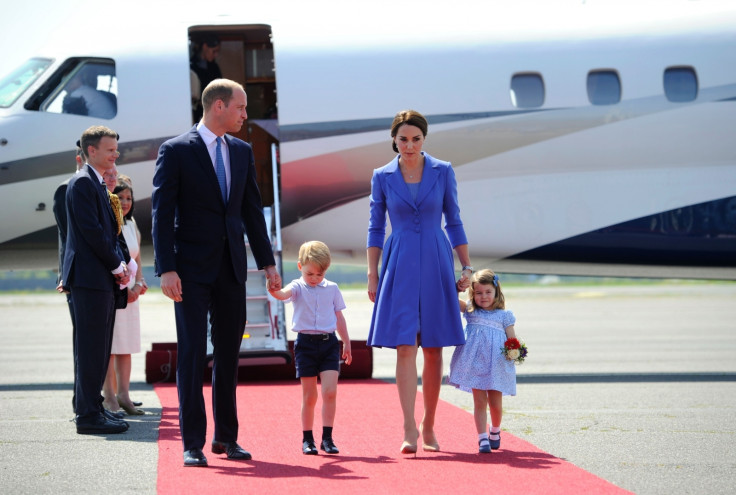 Prince William, the Duchess of Cambridge Kate Middleton, Prince George and two-year-old Charlotte concluded their five-day tour of Poland and Germany on Friday (21 July).
While the family visited an Airbus training facility in Hamburg on the last day of their tour, Charlotte was spotted throwing a mini tantrum and Kate handling it like a real pro mum. A video captures Charlotte wanting to hold some papers in her mother's hand and when Kate does not relax her grip, the little one stamps her feet in frustration.
After some words of comfort from the Duchess of Cambridge, they began to walk, but the toddler fell down. Kate picked up her daughter, consoled her and carried on.
Meanwhile, older brother George seemed excited about the chance to come close to a real helicopter like the ones his pilot father flies. The four-year-old even got strapped into a helmet and sat in the pilot's seat.
After the visit, the family boarded a plane home. "Auf Wiedersehen Deutschland! Goodbye Germany!" the Kensington Palace Twitter account read. "We had an incredible time in Poland and Germany. Thank you to everyone who made the visit so special!"
The Royal couple released an official portrait of Prince George to mark his fourth birthday on Saturday (22 July). The adorable close-up shot captures George beaming into the camera with a wide joyful grin. The Prince is dressed casually in a blue and white striped, collarless shirt, for the official photo.
In a statement, the palace said: "The Duke and Duchess are very pleased to share this lovely picture as they celebrate Prince George's fourth birthday, and would like to thank everyone for all of the kind messages they have received."