Sibling rivalry! Prince George throws massive sulk as Princess Charlotte is given flowers in Berlin
The Duchess of Cambridge also caught the eye in one of Diana's go-to designers, Catherine Walker.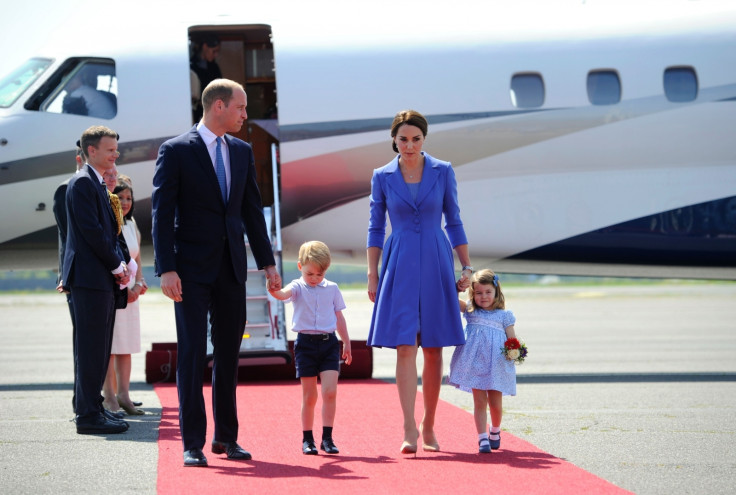 The Duke and Duchess of Cambridge have touched down in Berlin today (19 July) for the second part of their five-day tour of Poland and Germany with a cantankerous Prince George and a spritely Princess Charlotte.
Kate and William stepped off the plane to be greeted by a welcoming committee in the German capital, and everyone was smiling – including two-year-old Charlotte – except a grumpy looking George, three.
The toddler was less than impressed with having to join his parents on another day of the tour and was seen tugging at his mother's coat in a bid for attention while she greeted people at Berlin Tegel Airport with husband Prince William.
Charlotte, in a cute blue floral dress, looked a lot happier to be there and was even given her own mini spray of flowers by German gov rep Till Knorn. She also shook hands with British defence attache Brigadier Rob Rider, to onlookers' surprise.
Perhaps George felt a little overshadowed by his little sister's present and fell into a sulk, though he looked adorable in his trademark shirt, shorts, socks and shoes combo.
Despite much focus being on the children for the young royal family's trip, all eyes were on Kate upon their arrival as she caught the eye in a waist-cinching blue coat dress by Catherine Walker – one of the late Diana, Princess of Wales' go-to designers.
Kate has been seen in a number of new clothing items during the tour including an Alexander McQueen coat a dress by Polish designer Gosia Baczynska, despite being renowned for her love of recycling outfits.
She paired the eye-catching blue ensemble with a pair of trustee nude suede heels while wearing one of her favourite updo hairstyles in recent times.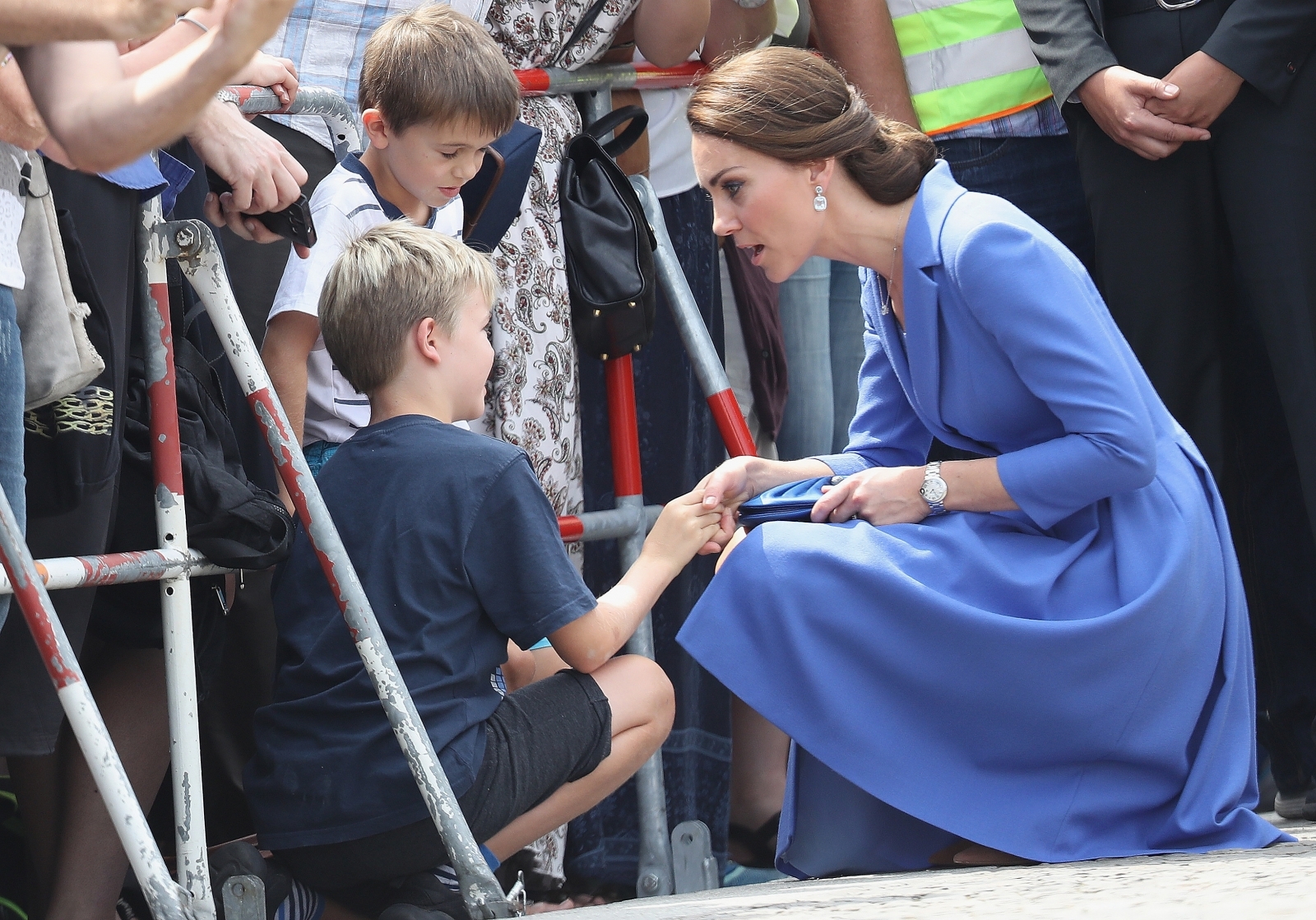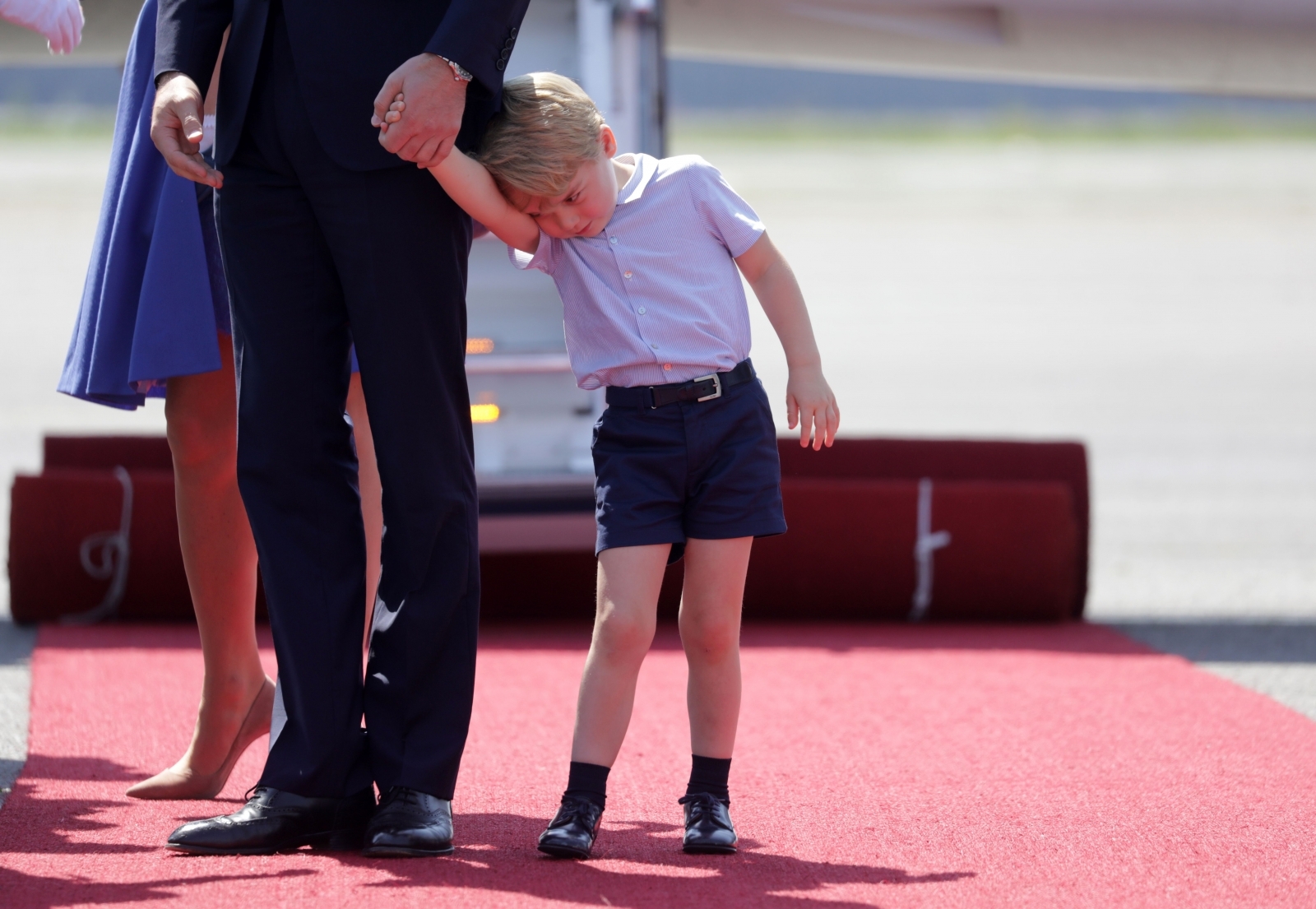 The royals are scheduled to visit Brandenburg Gate and the Holocaust Memorial today, with the duke and duchess already meeting Holocaust survivor Leon Henry Schwarzbaum, who shared his story with them.
They were also pictured with the director of the Holocaust Memorial, Uwe Neumärker, who showed them around the museum.
© Copyright IBTimes 2023. All rights reserved.