New Year 2016: Where to watch Dubai NYE fireworks display at Burj Khalifa live stream online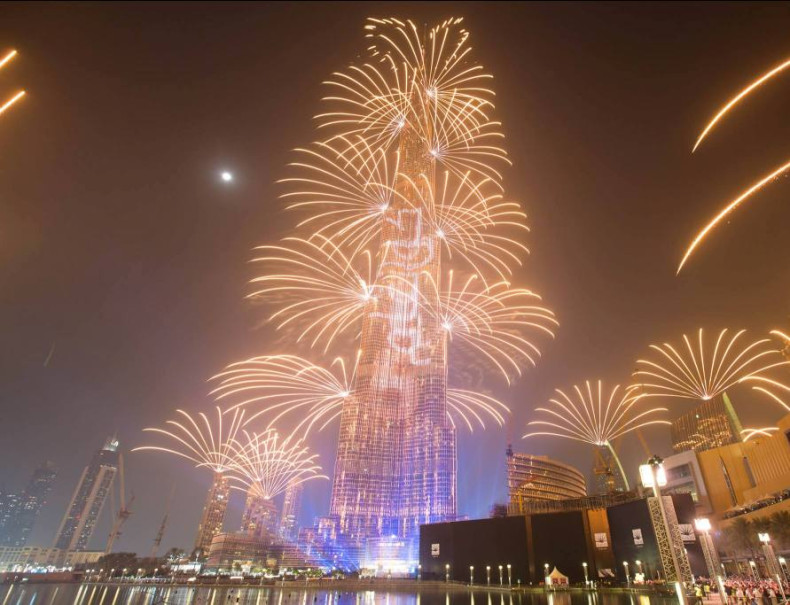 FIREWORKS DISPLAY MAYBE CANCELLED AS INFERNO ENGULFS DUBAI HOTEL
A fire has broken out at the luxury five star The Address Hotel in Dubai. Fire can be seen raging along the side of the 63-floor buiulding.
Many New Year's revellers are feared trapped in the blazing building. Emergency crews are responding and working to evacuate the building. The Address is the 19th tallest building in Dubai, with 196 rooms. It was completed in 2008.
The traditional spectacular fireworks displays in Dubai have been cancelled, according to some reports, but a Dubai official has told Al Arabiya TV that no injuries reported and that the fireworks display will go ahead as planned.
Follow this developing story here - Dubai Address Hotel inferno: New Year's Eve revellers feared trapped in 5 star luxury hotel [First pictures]
Original story:
The uber grand and world-famous Dubai fireworks display on New Year's Eve (NYE) will be bigger than ever this year with a 20-minute domino fireworks show that will light up the entire Dubai sky.
Downtown Dubai will kick off the celebrations at midnight (8pm GMT/ 3pm EST on 31 December) on NYE, with the fireworks spectacle at Burj Khalifa, the world's tallest skyscraper. A second display will begin at the stunning hotel Burj Al Arab at 12.09am GST and then Jumeirah Beach Residence's The Beach will close the fireworks display at 12.16am GST with an explosive finale.
This year, the Burj Khalifa fireworks display "is themed on a futuristic Dubai, underlining its 2020 vision while highlighting the UAE's achievements in the year gone by," reports Gulf News. The spectacular fireworks will be followed by an unprecedented audio-visual display with LED lights and light beams.
The entire 20-minute display will be streamed live online for the world to watch. You can click here to view the entire event. Viewers can also choose from four different camera angles to watch the event live. Check out the teaser for the event below:
You can also view the highlight video of 2014's Dubai NYE fireworks spectacle below: