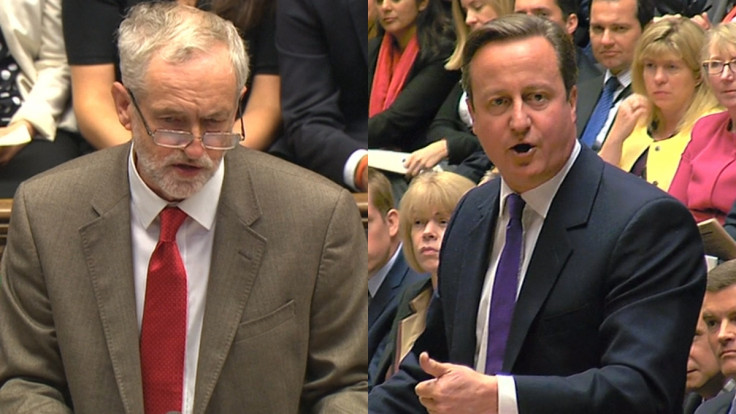 David Cameron and Jeremy Corbyn are set to go head-to-head in the House of Commons in the wake of the tragic terrorist attacks in Paris. The leaders will debate across the dispatch boxes during Prime Minister's Questions (PMQs) on 18 November after Cameron revealed that he would personally push for British air strikes on the Islamic State (Isis) stronghold of Raqqa, Syria.
The Conservative leader said that he would author a "comprehensive report" into what UK military intervention into the Middle Eastern state would look like following a critical report from the influential Foreign Affairs Committee, which called for a "coherent international strategy" before Britain sent RAF war planes over Syria.
"We cannot remain neutral in this battle of ideas – we have to back those who share our values with practical help and political representation," Cameron said on 17 November. "It is from Raqqa that some of the main threats against this country are orchestrated. Raqqa, if you like, is the head of the snake."
Meanwhile, Jeremy Corbyn has faced another internal row at the top of the Labour Party after he told the BBC that he was "unhappy" with the police's so called "shoot-to-kill" policy. His shadow foreign secretary Hilary Benn openly disagreed with the left-winger when he appeared on BBC Radio 4'S Today programme on 17 November.
"The circumstances that those French forces faced when they went into the Bataclan concert hall on Friday night and there were the attackers there killing those who attended the concert one by one, then long established procedures say it's perfectly reasonable – to prevent further loss of life – to use lethal force," Benn said.
The two leaders will clash after French police stormed a suburb of northern Paris in a bid to detain suspects linked to the 13 November attacks. Local media have reported that at least two people have been killed, including a female suicide bomber, and two others have been arrested.
You can watch PMQs from 12:00pm GMT on BBC 2's Daily Politics show, BBC Parliament and Sky News. Also make sure to follow @IBTUKPolitics for live updates and commentary.