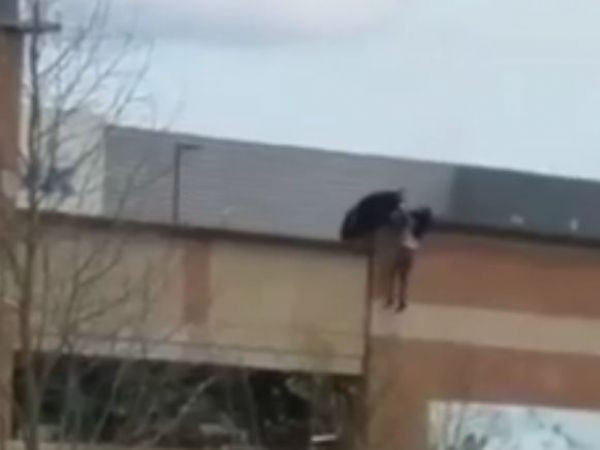 Washington Police grabbed a man as he tried to jump off a third-story car park near Seattle on Sunday 9 April.
Dramatic video footage shows the man push himself away from roof before officers grab him. He then hangs precariously over the edge of the building. After a struggle, he is pulled to safety.
Officers negotiated with the troubled man for hours before he made the potentially fateful move near the Westfield Southcenter mall in the suburban city of Tukwila.
In a Facebook post, Tukwila Police wrote: "Three Tukwila Officers and a Kent Officer negotiated for two hours with an adult male in crisis who was threatening to jump off a parking structure.
"The male crawled out onto the ledge in an attempt to jump after negotiation attempts were unsuccessful, at which time officers moved in and pulled him to safety.
"Outstanding job by Officers Stephenson, Perry, Danninger, Zaehler and Officer Koehler from Kent PD !"
The video has been shared almost 400 times on Facebook as of 10.00am (BST) on 10 April. Users praised the police for their efforts. Ryan Nielsen said: "He would of [sic] been severely injured at most I think. Glad to see a good job done though."
Courtney Sweat said: "I hope this man gets the help he needs."
---
The Samaritans provides a free support service for those who need to talk to someone in the UK and Republic of Ireland. It can be contacted via Samaritans.org or by calling 116 123 (UK) or 116 123 (ROI), 24 hours a day, 365 days a year.
If you or someone you know is suffering from depression, please contact a free support service at Mind.org.uk or call 0300 123 3393. Call charges apply.