A randy couple had to walk home after they were thrown out of out of a taxi for romping on the back seat.
The horny pair climbed into the back of a cab in the Russian capital Moscow and asked to be dropped off at their apartment.
But not long after the taxi left the kerb the duo began making out, with the woman clearly seen jumping on top of her partner.
The couple's antics were captured unaware by the cabbie, who is also a video blogger known to his YouTube followers as "Hardworking Cab Driver".
He can be seen smirking in the footage, trying to ignore the mounting action in the back seat.
But the pair cross the line when the man asks the cabbie to step out of his own car for ten minutes, so they can finish off in private.
The cabbie erupts: "Are you out of your minds? I should leave my car so you can have sex in it? Go to the pub and do it there."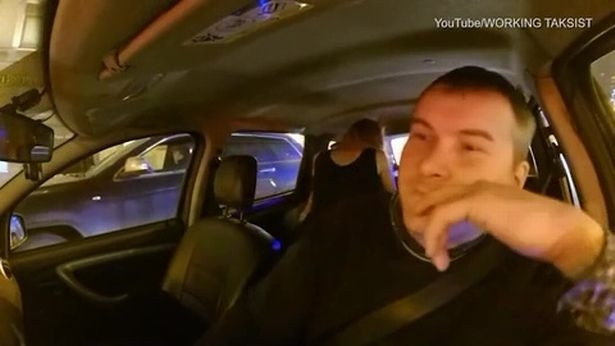 He then orders them to leave, which they do after paying him his £5 fare.
The driver turns to the camera and said: "They are f***ed up, they can shove their animal instincts up their arses.
"They wanted to f**k inside my car. He asked if I could walk around my car for 10 minutes, as if, like, he could last 10 minutes."
The cabbie has uploaded the video to his YouTube channel where it has so far been viewed over 25,000 times.