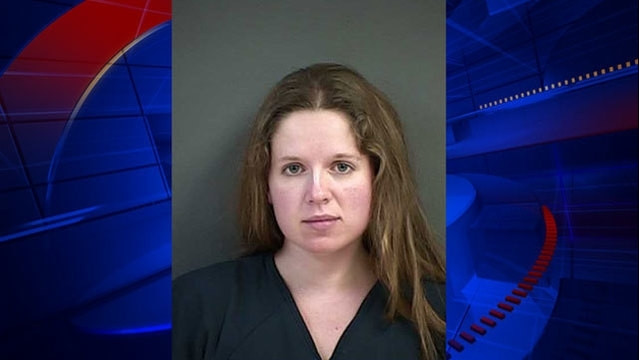 An Oregon teacher has been charged with having sex and smoking dope with one of her teenage students.
Andrea Nicole Baber, an English teacher at Logos Christian Academy in Springfield, faces numerous sex and drugs charges after police said she began an affair with an unnamed 15-year-old male student in August last year.
The Douglas County Sheriff's Office who arrested Baber on Friday (15 December) said she "engaged in a sexual relationship on a regular basis with the minor and provided him with marijuana" during a year-long relationship.
The victim's father reported the relationship to police on 12 December after he and his wife were sent an anonymous email with several photos showing their son (now 17) and Baber in bed together.
Police interviewed the teen, who said that he and Baber had been in a relationship since 2016. He added he usually had sex with her at her home in Cottage Grove, northwest Oregon, once or twice a week.
The affair started with school flirting, moved on to kissing at the movies and ended up as an intimate sexual relationship, the teen said in a statement to officers. He added that Baber occasionally gave him marijuana and alcohol.
Police said during their investigation they discovered Baber's husband recently made a report to the state's Child Protective Services after catching his wife and the teen at his home, partially unclothed. Mr Baber also said he found topless photos of his wife that had been sent to the teen via text message.
The teacher is charged with third-­degree rape, third-degree sodomy, contributing to the sexual delinquency of a minor, first-­degree online sexual corruption of a minor and the unlawful delivery of mari­juana to a person under 18 years of age.
Baber was released from Douglas County Jail earlier this week, and is due to appear in court on 18 March. She has not so far entered a plea.
A police statement added that Baber no longer works for the nondenominational Christian school.
Her biography page on the school's website, which has been removed, had said Baber "always felt called to work with youth and is very excited that God opened the door for her to be part of the Logos team."
In the school list of core values it states: "We encourage students to understand and support the blessing of America's godly heritage, even though our society continues to turn further away from God's best for us."