Watch: SpaceX successfully launches US Air Force's secret X-37B space plane ahead of Hurricane Irma
Details of the mission and purpose of the 11,000 pound, 29ft long X-37B are classified.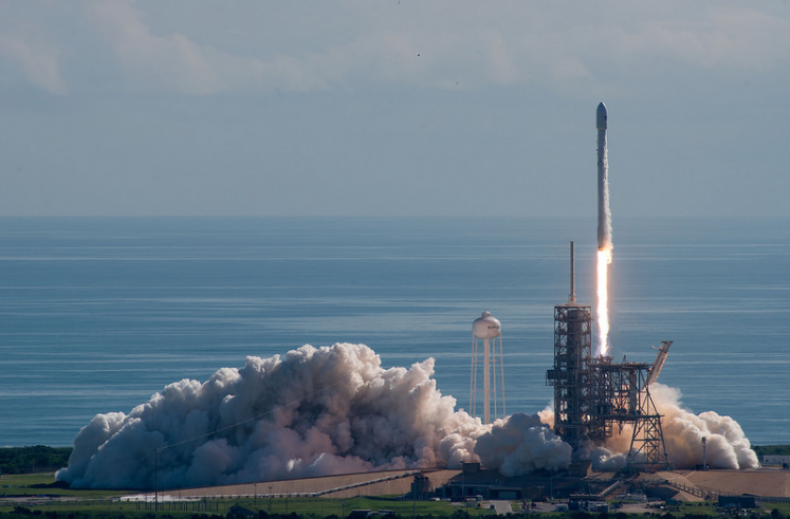 SpaceX has successfully launched the US Air Force's top-secret X-37B space shuttle into orbit on Thursday (7 September) from Nasa's Kennedy Space Center's launch pad 39A in Florida before the deadly Hurricane Irma is expected to hit the state. The unmanned spacecraft was lifted back into orbit aboard SpaceX's flagship Falcon 9 rocket at 10:00am EST.
The mission is the fifth one for the X-37B Orbital Test Vehicle (OTV) and its first launch with Elon Musk's SpaceX. The four previous missions were launched with United Launch Alliance's Atlas V rockets.It also marks the second time when SpaceX has launched a national security payload.
A few minutes after liftoff, SpaceX nailed the landing of the Falcon 9's first stage at Landing Zone 1 at Cape Canaveral Air Force Station in Florida.
This brings SpaceX's record of successful post-launch Falcon 9 landings to 16 and its seventh recovery on solid ground.
SpaceX's live coverage of the OTV-5 mission ended after the booster landing. It did not show the deployment of the X-37B since the mission is classified. However, the US Air Force declared the launch a success.
Details of the mission and purpose of the 11,000 pound, 29ft long X-37B are classified.
The military said this mission "carries small satellite ride shares and will demonstrate greater opportunities for rapid space access and on-orbit testing of emerging space technologies".
"Building upon the fourth mission and previous collaboration with experiment partners, this mission will host the Air Force Research Laboratory Advanced Structurally Embedded Thermal Spreader payload to test experimental electronics and oscillating heat pipe technologies in the long duration space environment," the US Air Force said earlier.
The US Air Force has two Boeing-built X-37B space planes that have collectively logged a total of 2,085 days in space. The fourth mission, which ended with a surprise landing in May, lasted nearly two years in space.
According to the US Air Force's website, the X-37B is an "experimental test program to demonstrate technologies for a reliable, reusable, unmanned space test platform for the U.S. Air Force. The primary objectives of the X-37B are twofold: reusable spacecraft technologies for America's future in space and operating experiments which can be returned to, and examined, on Earth."