In incredible scenes, a dog which had fallen into the Trout Lake in Vancouver, Canada, on Friday, 23 February, was rescued by a dog walker who risked her life by jumping into the frozen lake. And it wasn't even her own husky.
The heroic moment was captured on video by environmental activist Ben West, who was out walking his own dog and enjoying the snow in East Vancouver.
The video shows the unidentified woman jump into the lake and begin breaking the ice with her bare hands to reach the husky, named Tessa.
After Tessa, who had wandered into the snow-covered lake, fell into the water, the woman can be heard shouting, "He can't get out, so I'll have to go in."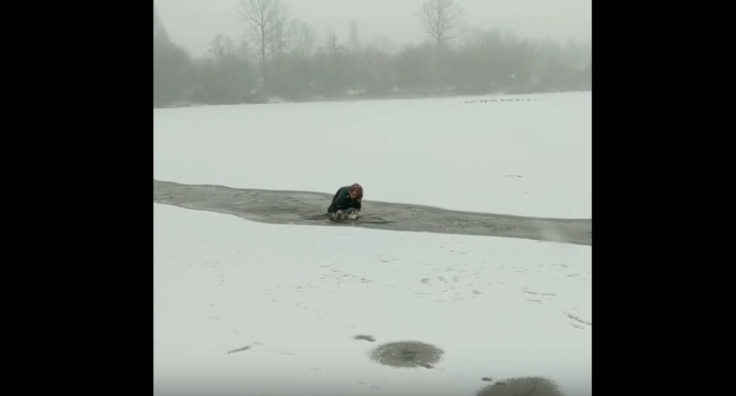 In an interview with CBC News, West said, "This woman, it wasn't even her own dog, she just started trotting out onto the ice and kind of falling through into the water.
"People were kind of cautioning her, saying, 'Don't do it.' But she said, 'It's a dog, I have to.'"
West added that by the time the woman had reached the dog, the freezing water was nearly up to her waist and she was struggling as well.
However, the woman and the husky eventually survived unharmed and the dog was quickly towelled off after being helped out of the icy water.
The brave woman was immediately taken to a neighbour's house until paramedics arrived, with Tessa later being reunited with her owner.
West posted a video of the incident on YouTube and an image on Instagram as well.
The British Columbia Search and Rescue Association tweeted about the incident, saying, "It's great this ended with a happy best-case outcome.
"We do not recommend anyone go out on ice without the proper safety equipment & training, ice can be very unpredictable & cold water – deadly. Rescuer safety is first priority. Be safe folks!"