A Conservative politician has been suspended after being filmed for making sexually provocative remarks to a woman who was protesting against him for alleged fox hunting near her home. Councillor Charles Carter, 33, confronted Linda Hoggard during a meeting of the Middleton Hunt in North Yorkshire on Monday (23 January 2017).
In response to her accusation that his hounds had been chasing a fox, which is illegal, he replied: "I'd quite like to shag you."
It is unclear whether Hoggard's allegation of illegal hunting is true, but Carter was nonetheless suspended from Breckland Council in Norfolk because of the derogatory remarks made to the 41-year-old mother of four.
During the clip, which has been shared on social media, Carter can be seen to say: "I'd like to shag you, take you to bed. Can I have your number please? You're very pretty, aren't you?"
In response, Hoggard says: "Pardon? I'll tell my husband that, shall I?"
William Nunn, leader of Breckland Council, said: "Having been made aware of the video this morning, I was appalled by the conduct of one of my Conservative councillors, who has clearly brought the party and the council into disrepute as a result of his behaviour.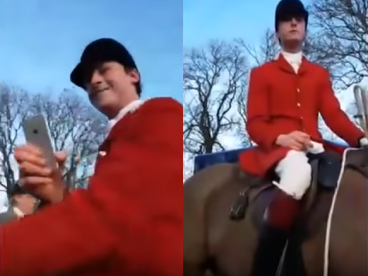 "I immediately took action, and the individual concerned has been suspended from the Conservative Group at Breckland Council pending the outcome of a full investigation by the Mid Norfolk Conservative Association."
Fox hunting was outlawed by Tony Blair's Labour government in 2004, although groups are permitted to meet to partake in simulated hunts where hounds follow an artificial scent.
Activists claim that many organisations continue to hunt foxes illegally, but there is no suggestion that Carter or the Middleton Hunt were doing so.
Ms Hoggard told the BBC: "I've always disagreed with fox hunting, even being a country person. I'm not an activist: the last hunt I followed was 15 years ago. I'm a housewife with children, and they were hunting near me and I thought 'Right, I'm going to follow'.
"I didn't know he was a councillor. I didn't even know him. I just went out and then confronted him. What he gave me was bang out of order."