Motorists in Tucson were treated to a spontaneous dance session on the road on Saturday (29 July) by a friendly traffic policeman. Police officer Woodson, who had stepped in to direct traffic after a storm-caused power outage in the area, brought a smile on the faces of passing motorists with his dance moves.
On their part, the Tucson Police Department posted officer Woodson's dance video on their Facebook page, which has since gone viral. The short video shows the officer jiving even as he directs traffic.
"Tucson Police Officer Woodson (Operations Division East) entertaining passing motorists after yesterday's power outage on the east side. Great job! Nice moves. #Policehumor," the Tucson Police Department wrote,
The police department's short video gained a lot of attention on the internet in no time. The video received more than 501,000 likes and around 9,000 shares since it was posted.
Many people praised the officer's dancing skills, with some even thanking him for giving them a reason to smile.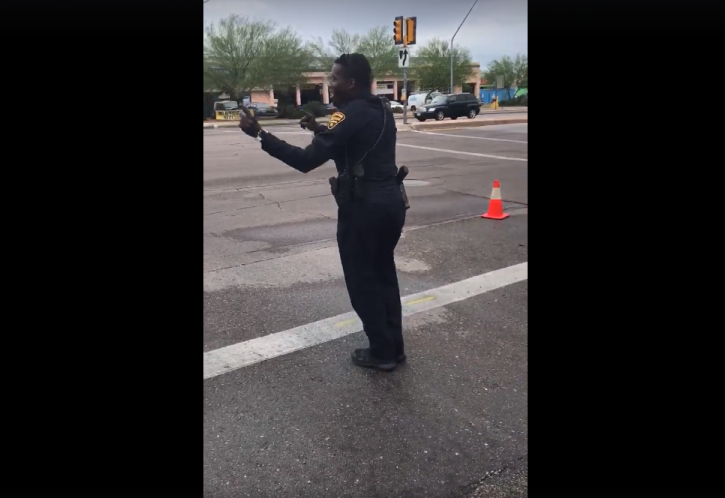 In early June, a policeman in the UK won hearts similarly during the One Love Manchester concert conducted in honour of the victims of the deadly Manchester attacks. One of the most heart-warming clips from the three-hour concert was of the policeman linking hands with little girls and dancing to Bieber's performance of Sorry.
Twitter users were quick to commend the police officer, with many praising the efforts of the emergency services during the terror attack.
One user tweeted: "What a lovely cutaway... A policeman dancing with some young Ariana Grande fans in Manchester. #OneLoveManchester". Another wrote, "Policeman dressed in uniform does 'ring a roses' with kids at the @ArianaGrande concert. that's what it's all about."