Watch Walking Dead season 7 premiere live online: Did Negan kill Glenn or Daryl in episode 1?
Abraham and Maggie are equally vulnerable to Negan's baseball bat Lucille.
The countdown to the season 7 premiere of The Walking Dead is finally over. On Sunday (23 October) the identity of Negans victim will finally be revealed and if the show's cast and crew are to be believed, this will leave millions of the show's followers heartbroken.
Click here to watch the premiere episode online via live stream (only in the US).
Episode 1 is titled The Day Will Come When You Won't Be and the official synopsis reads: "Last season ended with Rick and our group kneeling helplessly before Negan and his group. What Negan does will haunt those who survive forever."
Though the synopsis reveals nothing about the plot, the sneak peek released last week offers a gruesome hint about the situation of Rick Grime and his fellow Alexandrian Safe Zone members, who are held captive in the den of the notorious Savior leader.
Regarding the Savior leader's victim's identity fans have been suggesting that there are high chances that it would be Glenn. Earlier, show creator Robert Kirkman had also hinted at the series could follow a major part of the graphic novel in season 7. Norman Reedus' (Daryl Dixon) Instagram post also seemingly disclosed that Steven Yeun could be the victim.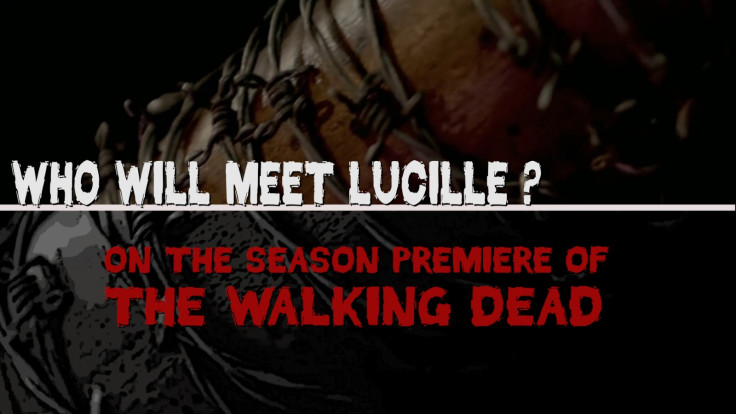 Reedus was on Glen's right side while all Alexandrians were lined up before Jeffrey Dean Morgan's character. And in the picture the actor was spotted with blood on the left side of his neck hinting at Glen's death.
Nonetheless, fans are also not ruling out Abraham or Maggie's death and suggest that there could be multiple victims.
The first episode of the seventh season may feature another brutal scene where Morgan's character may chop off Rick's hand. It remains to be seen, whether the hype about the brutality of the episode will live up to fans' expectation.
The Walking Dead season 7 episode 1 will premiere on 23 October at 11.35pm ET on AMC.
© Copyright IBTimes 2023. All rights reserved.