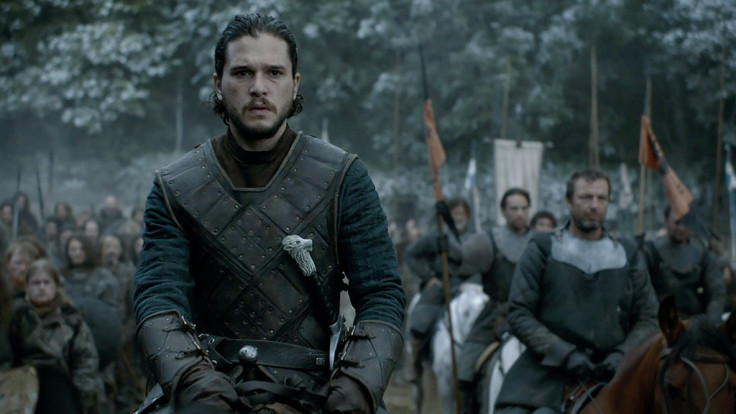 The winter has already arrived in Game of Thrones season 7 and fans are eager to see how the stories of Jon Snow, Daenerys Targaryen, Tyrion Lannister and Cersei Lannister merge. Though the producers are trying to keep the plot a tight secret, a series of leaked images are hinting at a major plot point.
Watchers on The Wall, a website devoted to GoT news, has released several images of Kit Harington (Jon Snow), Liam Cunningham (Ser Davos Seaworth) and Peter Dinklage (Tyrion Lannister) as they were busy filming in Spain's Basque Country. The pictures reveal a major fan theory regarding the alliance between the Dothraki and the Starks. Click here to see the pictures.
Missandei (Nathalie Emmanuel) the closest aide of the Mother of the Dragons, and few Dothraki were also spotted filming at the same location. The website speculates that the King of the North will visit down south (or at least to the place where the Khaleesi will harbour after sailing with her army to reclaim the iron throne).
In one picture, Tyrion can be seen fixing a boat while having a conversation with Ser Davos. Hence it is speculated that the negotiators might try to break a deal before their bosses meet. The meeting between the Targaryens (Jon Snow is the son of Rhaegar Targaryen) will be a major plot twist.
While Khal Drogo's wife is on a mission to reclaim the iron throne, Jon is adamant to defeat the White Walkers who are looming large over the North as the rumoured winter is all set to increase their power.
The alliance between King Jon and Queen Daenerys is speculated to fulfill George R. R. Martin's book title, A Song of Ice and Fire. However, it will be interesting to see how show creators and writers David Benioff and DB Weiss will narrate the highly anticipated meeting.