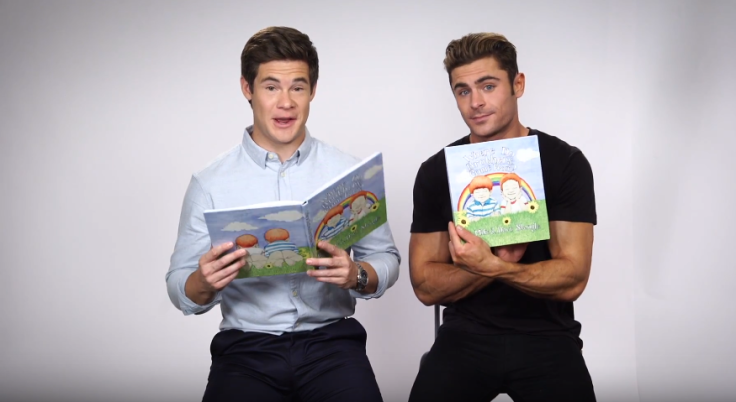 Zac Efron and Adam DeVine are here to tell you a bed-time story, but be warned, this one is not suitable for children. The two actors who play brothers in their upcoming film Mike And Dave Need Wedding Dates posted a video on Instagram to celebrate Brothers Day on 24 May.
The duo can be seen reading a hilariously explicit story explaining where "brothers come from". The reading starts off innocently enough with an introduction to the book that has supposedly been written by their onscreen characters.
Guitar music plays in the background, as Efron starts to say, "Brothers are feisty, smelly and fun," before asking if anyone knows where brothers come from.
DeVine wonders, "Are they aliens come from space," with the Baywatch actor adding, "Are they Canadian or from another race".
Colourful illustrations from the book accompany the reading, which soon takes a naughty turn. "One day it's only you on this earth – just mom and dad and plenty of mirth," reads the 32-year-old Pitch Perfect actor.
"And then all of a sudden, there is another," continues Efron. "They call that f****r your little brother," continues the 28-year-old.
The story goes on to explain how the brothers find out the similarities between them and become partners in crime. The video is part of the promotions for the film about two brothers who decide to hire two "nice" girls to accompany them to a wedding, but end up with two very naughty ones instead. Mike And Dave Need Wedding Dates releases in cinemas on 18 July in the US.