She's renowned for her quirky personality, tomboyish aura and multiple red carpet trip-ups, but Jennifer Lawrence surpassed herself as far as embarrassing moments go when she revealed to having a 'booger' to Jimmy Fallon while on air.
The Hunger Games actress proved that even Hollywood Stars are mucus-producing mere mortals as she graced The Tonight Show to promote her latest X-Men movie, before wiping away snot from her nose during a game of True Confessions.
The 25-year-old star brought her trademark goofiness to the table as she played the game with Fallon and HBO's John Oliver, before the talk show host pointed out that the Oscar winner had a dirty snout.
As Fallon explained how he pitched a song to Sir Paul McCartney, his attention was drawn to Lawrence's nose as he said rather bluntly: "You've got something on your nose!"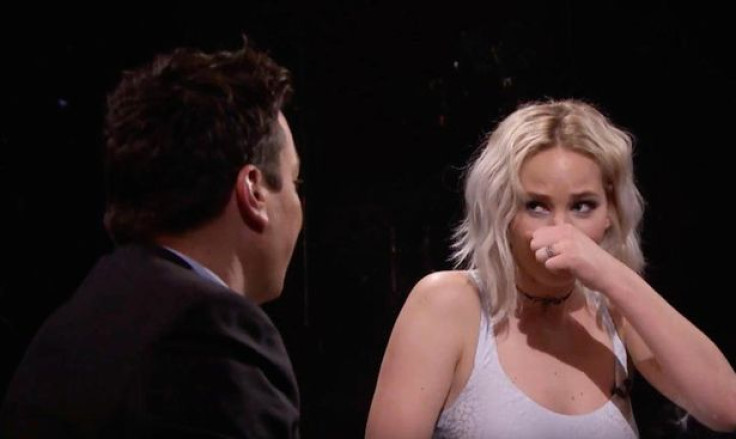 Wiping her muzzle, the actress quipped: "Is it a booger?" before adding: "Felt it". Charming.
The trio all burst into laughter with Oliver subsequently asking: "When did it shoot up?" before she replied: "We're on TV, there's no way a booger can exist on TV," shocked that something so cringe-worthy could happen to her.
Fallon continued to prod the star, adding: "You totally boogered-up. But it's totally gone...somewhere! I don't know where's gone but it's not on your nose." Phew.
Wearing a figure-hugging grey slip dress and silver studded sandals for the televised appearance, Lawrence also recalled an international press conference in 2008 for The Burning Plain that also starred Kim Basinger and Charlize Theron. When a reporter asked "Where is Kim Basinger?" Lawrence joked: "You didn't hear? Kim died."
Insinuating her joke was taken seriously, Lawrence revealed how she was thrown into media training. She said "I was ripped off the stage and thrown into media training,' Jennifer said. Obviously it didn't take."
X Men: Apocalypse appears in theatres from 27 May.