'We are not safe here anymore' says Syrian in Greek camp after 26-year-old woman dies in summer heat
Refugee died in an ambulance after losing consciousness at the Softex migrant camp.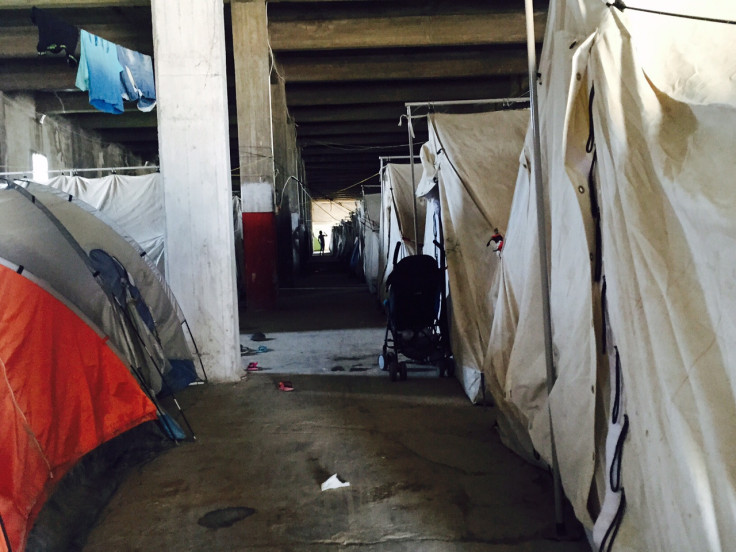 As temperatures climbed in excess of the 33C in Greece at the close of July, Raghda, a 26-year-old Syrian refugee from Damascus, lay gasping for air in the Softex migrant camp, just outside of Thessaloniki.
Hours later, she died in an ambulance as she was taken to a Ippokratio hospital in the city. While a post-mortem is being carried out to discover the cause of the young woman's death, with the Red Cross saying it believes a seizure is suspected to be the cause, for aid workers in the field and Syrian refugees living in the camp, the incident is a stark warning as temperatures increase.
"We are not safe here anymore," Khaled, a nurse from Deraa, whose name has been changed to protect his identity, told IBTimes UK.
Like Raghda, Khaled had lived in the Softex camp with 2,200 other refugees for just over a month before her death on 25 July. Ragha had arrived from Idomeni in Lesbos, like the vast majority of other Syrian refugees in the camp, after it was cleared by Greek authorities with her mother and her brother's family.
Khaled, who has been in Greece for five months in total since arriving from Turkey, was one of two men who went to the Softex' Red Cross Station when he heard Raghda was in need of medical attention.
He explained that one woman rose the alarm after Raghda fainted while taking a shower at around midday. Khaled believes she suffered an asthma attack and said she had problems with the chronic disease in the past.
"She couldn't breathe," he said. "She started to breathe a little bit but not normally for an hour."
While temperatures in the camp did not reach higher than 34C that day, Khaled said that the heat in plastic bathrooms in Softex and in the tents provided by Greek authorities was far higher.
He explained in one inside area of the camp fans had been installed, but to little effect. "It is like a sauna," he said.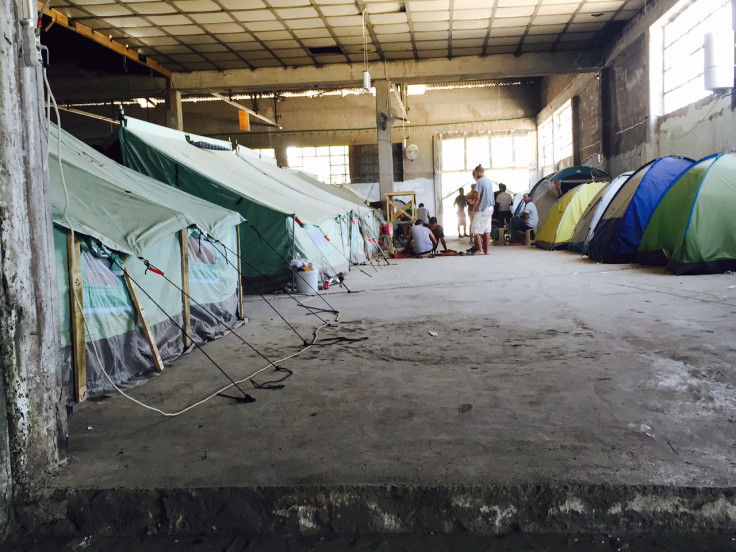 After administering some tests to check her blood pressure, the Red Cross doctor at the scene administered Raghda a sedative. "It was an injection to make her relax. Not exactly pain killer but something to make her calm," Khaled said.
He was deeply critical of the doctor who he said left after 20 minutes, telling them to wait for an ambulance that didn't arrive for an hour and a half.
"How are these people calling themselves doctors?" Khaled asked in anger. "It was one hour by foot and the ambulance took one hour and a half."
Raghda's death has sparked discontent in the camp, with some inhabitants refusing food and water distributed by the Greek army. The day following her death, Khaled estimated as many as 2,000 people from the camp and other camps nearby had marched on the hospital to demand answers.
"We believe this was her destiny but we want to know why no one did anything for her," Khaled said.
Raghda's death and the appeared indifference of the authorities has left Khaled disillusioned with life in Europe.
"Before this girl's death, I had no problem staying here. I thought I had safety and no war. Now of course not. I don't want to be here. I just want safety for me, my wife, my children my brother. I have lost all my family, I don't want to lose anyone else," he said.
The Red Cross has said in a statement that in line with standard Red Cross protocol, Raghda's death has been reported to the Ministry of Health, confirming she was pronounced dead on arrival at Ippokratio Hopistal. The International Medical NGO added: "We are in contact with the family and our thoughts are with her friends and loved ones at this time."
Kabir Miah, an aid manager at Muntada Aid, which brings food, and other provisions to the migrant camps in Greece said temperatures over the summer were deeply concerning, particularly with young children and new-born babies in the camp. "There are hundreds of tents which are exposed to the sun and it is over 40C some days inside − the heat is unbearable," he said.
© Copyright IBTimes 2023. All rights reserved.