Web of Trust: Uninstall this extension – it's selling your browsing data to third parties
German journalists have discovered that a trusted browser extension has been selling on user data.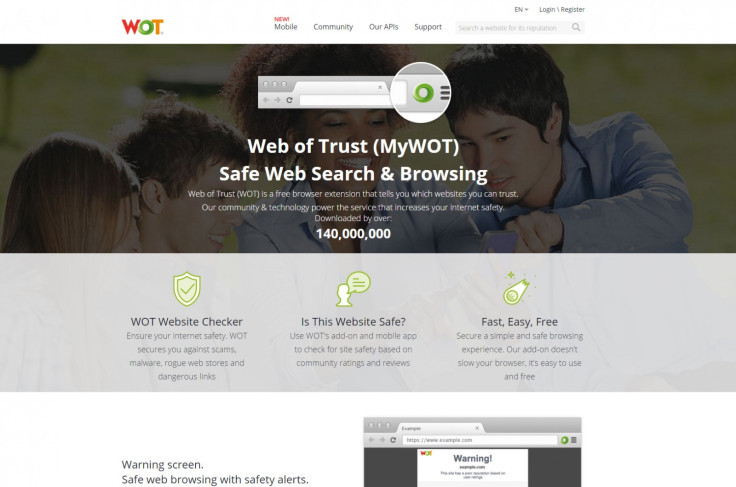 Google, Mozilla and Opera have removed a hugely popular free web browser extension dedicated to privacy and security following revelations from German media that the extension is collecting user browser histories and selling the data on to third parties.
The Web of Trust browser extension has been downloaded more than 140 million times. It is designed to inform users whether websites are safe to visit, protecting them from scammers, malicious links and malware, and users are invited to score websites for a collective rating on whether they are safe or not.
However, German public broadcaster Norddeutscher Rundfunk (NDR) discovered that the Web of Trust Services (WOT) was in fact selling users' data. WOT claims that the data it has sold was anonymised, but NDR reporters were able to identify 50 users just by looking at sample data that had been sold by WOT to an intermediary.
Even worse, the browsing histories contained a huge amount of personal data relating to current police investigations, sensitive financial details belonging to businesses, travel plans, health issues and even information suggesting the sexual orientation of a judge.
The browser extension has been pulled from the stores for Firefox, Chrome and Opera, and WOT has issued a statement admitting the problem.
Uninstall Web of Trust to prevent your data from being leaked
"While we deployed great effort to remove any data that could be used to identify individual users, it appears that in some cases such identification remained possible, albeit for what may be a very small number of WOT users," WOT said.
"Of course, if the data allows the identification of even a small number of WOT users, we consider that unacceptable, and will be taking immediate measures to address this matter urgently as part of a full security assessment and review."
WOT said that it had been sent a set of proposed changes and questions to answer by the Mozilla Foundation, and that after communicating with Mozilla, it decided voluntarily to remove the WOT plugin from all other platforms itself.
The Finnish firm says it will now review its privacy policy and overhaul its data cleaning process to ensure that data is anonymised, should users choose to let WOT use it, in order to keep the extension plugin running.
However, if you have the extension installed on your computer it will work as usual, so it might be a good idea to uninstall it to prevent sensitive data about your browsing history and preferences from being leaked.
© Copyright IBTimes 2023. All rights reserved.