The Mediterranean migrant crisis took another gruesome turn as 20 April dawned to reports that more than 900 people had drowned in the Mediterranean over the weekend. The staggering number of possible casualties prompted politicians in the UK and Europe to clamor for change.
It got worse with news that another shipwreck with 300 on board was feared after IOM reported a distress call.
Later, dramatic videos emerged of a deadly shipwreck in Rhodes, Greece, featuring desperate migrants holding on to debris floating in Mediterranean waters after their boat ran aground off the coast of the island.
The next chapter of the story centred around the arrival of bodies of drowned refugees arriving in Malta as a brazen smuggler "laughed about overcrowding boats" in a recording that shocked the world.
IBTimes UK dispatched senior reporter Gianluca Mezzofiore to Sicily, where reported on the arrival of a four-month-old baby among the hundreds of fresh migrants in the port of Augusta after being rescued south east of Calabria. The migrants were travelling on a fishing boat, which allegedly sailed from Alexandria, Egypt.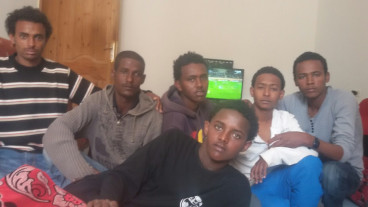 Mezzofiore later made contact with Nael Goitom, a 16-year-old Eritrean migrant who escaped captivity under Islamic State (Isis) in Libya. He exclusively told IBTimes UK about how the jihadists forced him to watch the beheading and shooting of Eritrean and Ethiopian Christians.
Goitom and four other young Eritreans, who had taken refuge in Tripoli, were in danger of being smuggled to Italy on a rotten dinghy or fishing boat, with the risk of drowning on the perilous journey across the Mediterranean Sea.
Senior reporter Umberto Bacchi also reported on a luxury yacht service for wealthy refugees that fetched smugglers $800,000 (£527,000) a trip.
Meanwhile, executive editor Orlando Crowcroft caught up with an Eritrean refugee currently detained in Israel, who has described the moment he realised one of the 30 migrants executed on the Libyan beach was his friend of more than seven years.
The European Union held an emergency summit to address the issue on 23 April and agreed to triple the funding of helicopters, ships and other resources as part of search and rescue operations to prevent further drownings. Time will tell whether the approach proves successful in saving lives.
Election juggernaut rolls on
Back in the UK, the week on the campaign started with another manifesto launch. This time it was the SNP's turn and the Scottish nationalists basked in the attention heaped upon them as Labour gamely continued to distance itself from all talk of a coalition. SNP leader Nicola Sturgeon, a proven performer when it comes to playing to the crowd, unveiled her party's "UK-wide" vision that aimed to present an anti-austerity "alternative to cuts".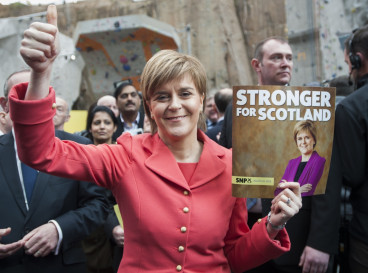 All of which prompted senior features writer Shane Croucher to ask: is SNP leader Nicola Sturgeon a force for good in UK politics?
By 21 April, John Major was unleashed by the Conservatives. The former prime minister came out all guns blazing when he referred to the SNP as a "real and present danger".
Reports also surfaced that Rupert Murdoch told The Sun "future of company" depends on stopping Miliband becoming PM.
On 22 April, it was Nick Clegg's turn in the spotlight with the leader of the Liberal Democrats pledging to end public sector pay cuts if they join the next government.
Later, as Conservative co-chairman Grant Shapps was forced to deny the "false and defamatory" allegation that he edited Wikipedia pages, IBTimes UK senior reporter Ian Silvera turned sleuth to uncover changes to the online encyclopaedia entries made from computers at Conservative Party Headquarters in London. The results were unexpected.
By 24 April, Ed Miliband waded into foreign affairs and was consequently branded "disgraceful" for attacking David Cameron over the Libya migrants.
We wondered whether Miliband was a hypocrite for attacking Cameron's post-conflict planning after Labour's Iraq War disaster. You can have your say in our poll here.
Away from politics, so-called Bookkeeper of Auschwitz Oskar Gröning admitted: "I hear the cries of the dead in my nightmares."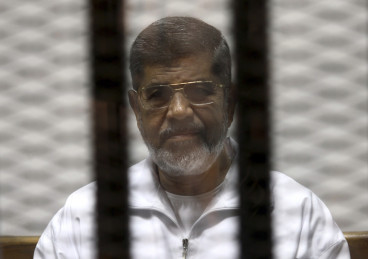 Meanwhile in Egypt, former president Mohammed Morsi was spared the death penalty in Cairo where he was sentenced to 20 years in jail, prompting Anas Alajlan to ask: why did Egypt jail its first democratically elected president?
In business news, Tesco reported its biggest ever loss: a staggering £6.4bn ($9.71bn).
Don't miss
Isis: Eritrean teen migrant forced to witness Libya massacre - "I watched IS beheading Christians".
Israel paid my Eritrean friend $3,500 to get out - Isis beheaded him on a Libyan beach for being a Christian.
Mohammed Morsi "was just a cog in the machine" claim Egyptians in light of court verdict.
Bahrain prison riot: Teenage inmate tells of beatings and humiliation at hands of prison guards.
Sex in the news (never does a week go by without ...)
Oops, actually there was scarcely any mention.
In pictures
Hubble anniversary: 25 of the most beautiful images captured by Nasa's space telescope.
Armenian genocide: Centenary of massacre of 1.5 million by Ottoman Turks.
Mediterranean migrant crisis: The Drowned And The Saved.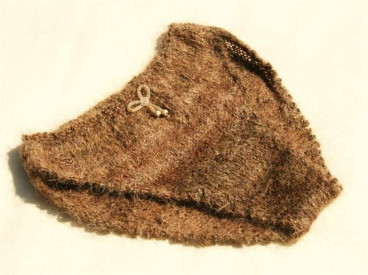 Weird news
New fashion trend? Swedish woman creates underwear out of 100% human hair.
Full Grown: Trees grown into the shape of items of furniture such as chairs [Photo report].
Han the humanoid robot understands your facial expressions and can respond in kind [Video].
Lindsay Lohan misspells "You're beautiful" in Arabic on Instagram, spelling out 'You're a donkey' instead.
Yemen: Saudi prince promises free Bentleys to bomber pilots who killed 1,000.
The transsexual Scrabble champion: Life and death in a town called malice.
The week's most read stories
Karen Buckley murder: Student was clubbed with spanner, strangled and dumped in acid.
Mediterranean migrant crisis: The Drowned And The Saved - a photo report.
Isis: Eritrean teen migrant forced to witness Libya massacre - "I watched IS beheading Christians".
Outdoor Cinema: Hundreds of thousands of people fall for "data mining scam".
Neurosurgeon Sergio Canavero insists 'time is now' for frontier-breaking head transplant.
And that's the week that was.