The streets of Hamburg looked like a scene from Night of the Living Dead as a thousand zombies walked and crawled from all corners of the city towards a central square. Once assembled, the figures began to dance and shake off their grey clay coverings to reveal colourful clothing or their naked bodies. The performance, entitled 1,000 Gestalten (1,000 Figures), was a peaceful protest against the upcoming G20 summit in the city.
"The goal of our performance today is to move the people in their hearts, to give them the motivation to get politically engaged again. We want to create an image, because we believe in the power of images...we want to motivate people to take part. To free themselves from their crusted shells, to take part in the political process," one of the event organisers, Catalina Lopez told Reuters TV.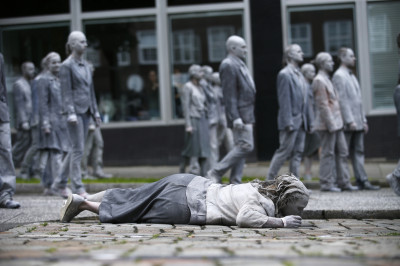 Hamburg is bracing itself for more violent protests as US President Donald Trump, Russian President Vladimir Putin and Turkish President Recep Tayyip join other G20 leaders for the summit. "G20: Welcome to Hell" is the slogan anti-globalisation activists are using for the planned protests.
In a preview of things to come, police clashed in Hamburg with hundreds of protesters on Tuesday night (4 July), using pepper spray and water cannons to eventually bring the crowd under control.