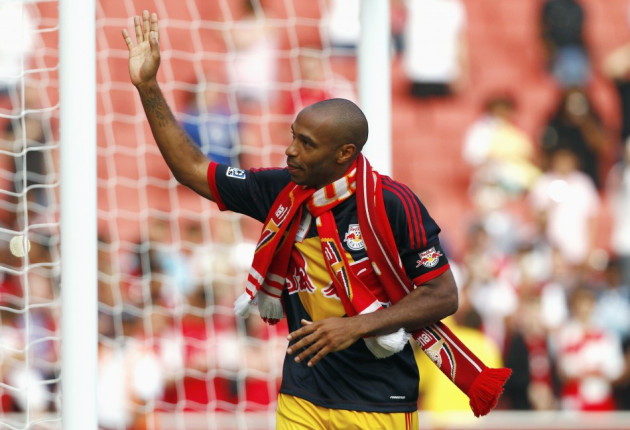 Arsenal manager Arsene Wenger has cautioned Thierry Henry to think long and hard before making the switch to club management and indicated the former Gunners' striker can still compete at the highest level.
Henry returned to the Emirates Stadium on Friday to see a statue of himself unveiled as part of the club's 125th anniversary celebrations.
Arsenal's record goal scorer has been widely linked with a move into club management when he retires but Wenger said ex-French international still has plenty to learn before he makes the switch.
"Let him first be a player - his career is not over," the Arsenal manager said.
"After that you have to learn the job. It is like any other job. You need to learn the team, how to handle people. You do not stop being a player and become a manager the next day. It doesn't work like that.
"I must say, many players I have managed have qualities to be managers. [ex-Arsenal captain] Patrick [Veira] or Thierry can both be managers. It is a different life from a player. You have to dedicate your life to the team. Players have to make that choice."
Henry watched from the stands on Saturday as a spectacular Robin van Persie volley gave Arsenal a 1-0 victory over a resolute Everton side.
After the match, Wenger admitted he would be happy for Henry to complete his coaching badges at Arsenal but was quick to refute the claim that great players make good managers.
"It's not always the case," Wenger told the official Arsenal Web site. "There are plenty of examples in England. It is a different job. It is a good base to be a great player but there are many other ingredients. I do not rule it out. They can be great managers.
"There is a special satisfaction if any player I have had is happy, even if he is a movie maker, a painter or manager. But my one piece of advice is: play as long as you can."
Meanwhile, Henry was moved to tears as his statue was unveiled alongside fellow Arsenal legends Herbert Chapman and Tony Adams on Friday.
Arsenal's record goalscorer was immortalised outside the Emirates Stadium ahead of the club's 125th anniversary celebrations at the Everton game.
"I heard it from [Radio journalist] Tom Watt and I thought he was joking, because he usually does joke a lot so I was like, 'yeah, whatever'," said Henry. "But it was for real. I know I saw the statute outside but still somehow I can't believe it's real to be honest.
"I'm more than proud - honoured, privileged. At the very beginning I honestly thought it was a joke, until I realised it wasn't. As I said out there, 125 years of history, when you know the players that have played for Arsenal football Club and I was chosen to be out there next to the stadium.
"I always have something to say usually but I'm kind of speechless. The way the statue is with me leaning in front of the stadium is a great on - it's exactly how I feel about Arsenal Football Club. Also facing not just the Emirates, but Highbury. It's amazing. I never thought I'd be out there like that.
"I was fortunate to have won a lot of stuff in my career but that tops it all. You don't dream about that, it doesn't ever come into your head. Like I said many times, I always went out there in the Arsenal shirt and played 100 per cent."