A counter-terrorism boot camp set up in an Israeli settlement in the occupied West Bank is allowing tourists to shoot at posters of Arab people who could represent a "threat to security."
Tourists can shoot live bullets at targets dressed up in traditional Palestinian attire, watch former soldiers take down potential attackers, and learn more about security measures that can thwart assaults.
The two-hour experience includes a simulation of a suicide bombing attack and a knife assault.
The boot camp was set up in the Gush Etzion settlement by Israeli counter-terror and security academy Caliber 3.
The facility originally opened in 2003 and ran courses for security guards during the Palestinian uprising known as "Second Intifada". It later became a tourist attraction that aims to teach visitors how to behave in case of a terror attack.
The price for tickets is $85 (£64) for children, who are not allowed to use weapons in the facility, and $115 (£87) for adults.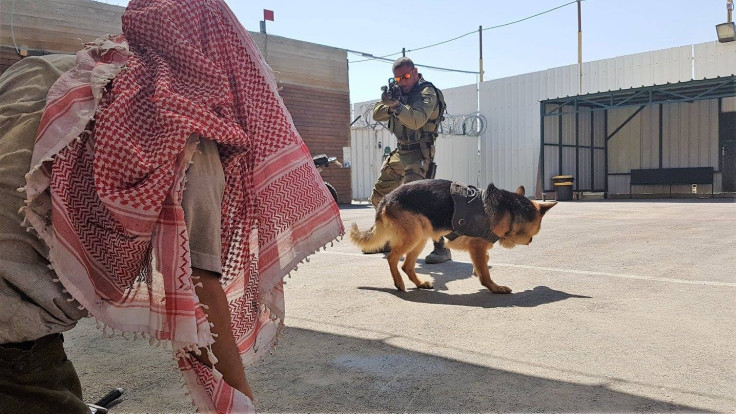 The facility offers six programs for tourists, including the "Ultimate Shooting Adventure", desert "Survival Training", krav magna martial arts, and clay target shooting.
"In two hours you can't become a professional, but we give visitors some awareness of what it means to secure yourself, your community and your family," Colonel Sharon Gat, the founder and CEO of the venture, told Reuters.
"Many (visitors) have heard from their friends (about us), that this was the highlight of their trip to Israel and that is why they come. They know it's an attraction they can't see anywhere else," he said.
A spokesperson for the company told the Independent that targets resemble Palestinians in order to replicate street scenes as accurately as possible.
"This is not strange at all," said Yoav Fleishman, Foreign Relations Manager. "We have a very diverse set of target posters, and many times the population who train are used to that kind of population on the ground. We want to simulate a (regular) street which means the people who walk around the street are the people you see on the target posters."
On its website, Caliber 3 describes the shooting experience as a "legendary introductory program designed for tourists of any age who would like to get a taste of Israeli methods of shooting and combat.
"Learn from the experts about weapons handling, counter terrorism tactics, and the values that guide the Israel Defense Forces," the company further says.
It is estimated that between 15,000 and 25,000 tourists visit the facility every year. The majority of tourists are American Jews, but in recent years growing numbers have come from countries including Brazil, Russia and China, Israeli news site Haaretz reported.
Gat said the Israeli government had initially refused to grant him a licence to open the academy to visitors from abroad.
"But today, they understand the importance of what we do here," he told Haaretz. "People who do our programs come out with a much better understanding of this country. They become ambassadors for the State of Israel."
Gat further explained he wanted to open the academy following the Holocaust, to show the public "what a long way the Jewish people have come in 75 years."
However, the terror attack simulations and shooting programme have also drawn criticism.
Some people argued they could create further tensions between Israel and the occupied Palestinian territories, while others condemned the activities for supporting Israeli settlements, which the UN considers illegal and a "violation of international law."
"The participation of tourists in training in these camps built on occupied Palestinian land means that they support the occupation and we ask them to stop it," Yasser Sobih, mayor of the nearby Palestinian town of al-Khader, told Reuters.