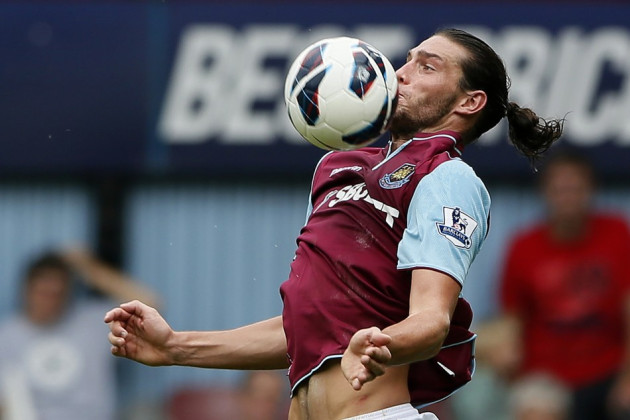 West Ham United have learned that Andy Carroll's latest injury is not as severe as first feared but his continued absence has left Sam Allardyce 'devastated.'
The 24-year-old has not played for the Hammers since making his move to the club permanent for a club record £15m this summer after suffering a heel injury on the last day of the 2012/13 season.
But the former Liverpool striker suffered another setback just as he neared his return date, picking up a separate foot injury at the beginning of the week which the club have today confirmed is an injury to his plantar fascia, the tissue supporting the arch of his foot.
The club have not disclosed a timescale for a possible return as of yet as they seek the best possible treatment, but have quelled fears the knock could see Carroll miss the majority of the season, also confirming he will not need to undergo surgery.
With a severe dearth of striking options which saw the club forced into signing former Fulham forward Mladen Petric on a free transfer, Allardyce has admitted Carroll's extended absence is a significant blow to the club.
"It's devastating for Andy and ourselves," Allardyce told Sky Sports News on Friday morning.
"It's not frustrating, it is devastating because we have gone through the process of 16 weeks to go along with specialist reports on how we deal with the rehab when Andy is recovered from this injury."
While Carroll's latest injury is not a reoccurrence of the one that saw him side lined throughout the summer, it is a repeat of a knock the striker suffered earlier in his career, one he was seemingly very unlucky to pick up.
"According to the specialist the chance of a recurrence of that type of injury is about four per cent but unfortunately for Andy he was one of the unlucky ones," Allardyce said through the club's official website.
"We had been very cautious, very patient with him along the way and it's sad this has happened to him as well as us.
"He doesn't need an operation but we need to give the foot time to re-heal, continue the rehab and get him back in training again. "