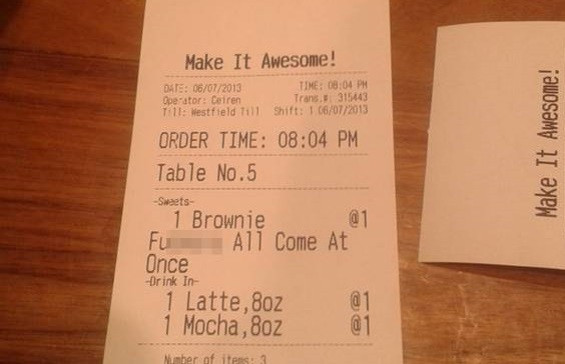 A woman ordering coffee at the Westfield shopping centre in east London was left with a sour taste in her mouth by a receipt branding customers "f*****s."
Naomi Bloomer claims staff then refused to apologise for the crude insult which she found at Grind Coffee Bar..
Bloomer, 22, noticed the slur printed on a receipt which had been left lying on the shop's counter, in full view of the clientele.
Bloomer said: "This receipt was just sitting there on the bar, clearly visible to customers. I just thought it was really inappropriate and so I complained."
But her anger was then stoked by the attitude of staff when they realised they had been caught.
One member of staff shrugged off the slur, telling Bloomer: "Yeah, we've been rammed."
Writing to Westfield customer services, Bloomer complained that "there was no hint of apology or embarrassment" and called the lack of contrition "absolutely unacceptable."
She claimed she was "fobbed off and ignored at every turn," explaining: "I just wanted an apology, just a simple acknowledgement that this was wrong. The part that really gets to me is that they clearly don't care about customer service at all."
Dave Dickinson, who owns the New Zealand-run Grind Coffee Bar, said: "We strive for super-friendly antipodean customer service. So we apologise to the one person that didn't experience this."