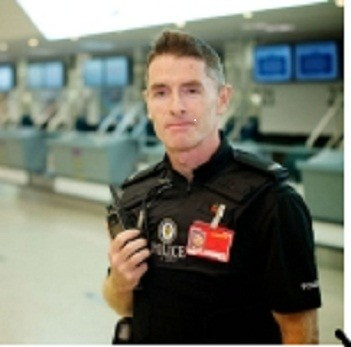 In a heartening incident, a police constable stationed at Birmingham Airport has been praised for helping to save the life of a man who collapsed minutes after stepping off a plane.
Adrian Daly, 45, was first on the scene when the passenger - who had just returned from Arrecife in Lanzarote - suffered a suspected heart attack in the baggage reclaim area. Daly administered crucial first aid, including mouth-to-mouth resuscitation and chest compressions, in an attempt to revive the victim.
"He was lying on the ground with his family surrounding him and a large crowd standing in the vicinity watching on. I could see his breathing was laboured. I radioed for assistance but within a few seconds the man had stopped breathing and I couldn't feel a pulse. I rolled him onto his back and began CPR; the airport first aiders were quickly on the scene and showed fantastic professionalism by helping out and taking over the chest compressions while I continued mouth-to-mouth," said Daly in a statement.
A defibrillation kit was located close to the incident and was quickly brought to the scene, where first-aid officials successfully used the device.
"After a while the man started to gurgle and it became noticeable he was breathing again. I'm just glad I was able to play a part in helping come to the man's aid and delighted to hear he's now on the mend," added Daly.
Paramedics transferred the patient - who lives in Long Eaton, Nottingham - to a hospital where he is now recovering.
Daly, who has two children, has been based at the airport for 16 months now and is one of 24 West Midlands police officers working four shifts around the clock to protect passengers and airport visitors.