A man who claimed he was sexually abused by former home secretary Leon Brittan said the allegations started as a joke and he "just went along with it". The man, referred to only as 'David', told BBC's Panorama that Brittan's name was suggested to him by campaigners, who also showed him a photograph of the late Tory MP, who died in January aged 75.
David admits he now feels guilty for naming Brittan and told police he is worried that "two well-known campaigners" may have coerced him into making false claims. The comments from David, who said he had suffered years of abuse throughout his life, were made during a Panorama report into Operation Midland, the Met Police investigation into an alleged high-profile paedophile ring in Westminster during the 1970s and 80s.
He said: "It were just done as a joke suggestion to start with but that suggestion became reality. I just went along with it. I identified him [Brittan] with a photograph. But there again, he's a well-known MP and I might have seen him on TV through the years and stuff and I might just have been confused."
Panorama also criticised Labour's deputy leader, Tom Watson, who raised the possibility of the existence of a "widespread paedophile ring" linked to parliament in the House of Commons in 2012. In a statement to the BBC, Watson admitted it was "clear to me very early on that some testimony would prove to be unreliable, yet not all of it".
Investigation compromise
Before the programme was broadcast, Met Police issued a statement saying they had "serious concerns" about the impact of the programme on its investigation into allegations of child sexual abuse and homicide. They had previously criticised the BBC after it broadcast an interview with another alleged victim, 'Nick', which could "compromise the evidential chain should a case ever proceed to court".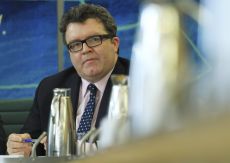 A Met Police spokesperson said: "We have not yet completed our work. There are still lines of inquiry to pursue which are not in the public domain and we will not reach a judgement until that work is completed.
"Our concerns extend beyond Operation Midland. We are worried that this programme and other recent reporting will deter victims and witnesses from coming forward in future. Seeing an individual make allegations and then be targeted by the media is not going to encourage others to speak out.
"Anyone who read the report into Jimmy Savile will recall that hundreds of people never came forward during his lifetime in part because they feared the consequences of making allegations against a powerful public figure. Since that investigation, there has been a significant increase in people reporting non-recent and contemporary allegations.
"We welcome this increasing confidence and do not want to take a backward step, and we trust that the BBC will consider in responsible fashion the wider impact of its reporting on all the individuals who might be watching."
A BBC spokesperson added: "This is important and fair investigative journalism that rightly asks legitimate questions about the conduct of the police, journalists, campaigners, and politicians in handling historic allegations of child abuse. We were aware the Met police has concerns about this Panorama going ahead but as they recognise, there is public interest in reporting on their investigations."