As the lobbying Bill – which should really be the anti-lobbying Bill – stumbles its rocky way through parliament, David Cameron continues to insist it is part of his campaign of "openness and transparency". Nothing to do with silencing the unions, for example.
It was Cameron, after all, who insisted lobbying would be the "next big scandal" in politics and promised he would legislate against it. Opening the political parties' books on donations was part of the same new, open government campaign.
So there are many in Westminster wondering why, when it comes to the list of people Cameron has entertained at Chequers, openness and transparency has gone out of the window in favour of a media blackout.
Downing Street insist the list of "private" events is kept secret because no taxpayer money is spent hosting them, they are party events.
So, presumably, they include people and/or organisations who might contribute funds to the Conservatives. Could there even be lobbyists involved?
Well, you will never know.
Farage and his fruitcakes
Ukip leader Nigel Farage is determined to rid his party of any of the "fruitcakes, loonies and closet racists" David Cameron once claimed inhabited it.
He has proved as good as his word by throwing out a lengthening list of Euro MPs, local councillors and others who cross the line into fruitcakedom – such as suggesting the floods were God's punishment for gay marriage.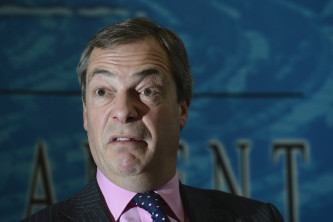 However, he found himself at the centre of criticism when he claimed women were often less valuable to City employers because of their biology.
He also insisted there was "no discrimination against women at all" in the City because any women prepared to remain childless did just as well, or even better, than men. He seems not to have spotted the contradiction in that suggestion.
Perhaps a re-education session with actor Cate Blanchett might be the ticket. She challenged the paps over their lingering lens techniques with the slap down "do you do that to the guys?".
Gay weather
Brighton MP Simon Kirby had his own way of dealing with the Ukip fringe, jumping up during Prime Minister's Questions to declare: "I am incredibly proud to represent a large gay community in my constituency.
"Does my right honourable friend agree that, despite the views of some, the weather in Brighton is nearly always very sunny?"
Good putdown. Not strictly accurate of course. And we can only keep our fingers crossed that Brighton is not hit by a plague of locusts in the next few weeks.
My name is...
The BBC's chief political correspondent, Norman Smith showed commendable restraint when interviewing former Liberal Democrat leader Paddy Ashdown about the Lord Rennard scandal.
Not until the end of the interview did Norman say: "Thank you Lord Ashdown. And my name is Norman."
Ashdown had been calling him Martin throughout the piece.
Citizen's arrest
There really is nowhere to hide for former prime minister Tony Blair. Not even a quiet dinner.
Blair was enjoying a relaxing night with family and friends at the Tramshed (an upmarket steak restaurant, apparently) in Shoreditch, east London, when he got more than chips with his meal, and felt the hand of history on his shoulder.
Barman Twiggy Garcia told online magazine Vice: "I put my hand on his shoulder and said, 'Mr Blair, this is a citizen's arrest for a crime against peace, namely your decision to launch an unprovoked war in Iraq.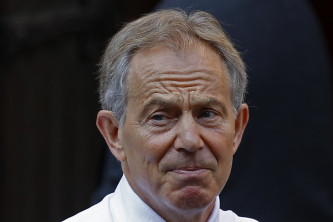 "I invite you to accompany me to a police station to answer the charge'."
As security was called Blair apparently asked the barman whether he didn't agree it was right to remove Saddam Hussein from power.
Which, of course, was not what the Iraq war was about was it? Because that would have been illegal, wouldn't it?
As Blair told the Commons on the very eve of the war, if Saddam had given up his weapons of mass destruction he could have remained in power.
Why on earth did the dictator not agree and save his skin. Oh yes......
PS Mr Garcia is now an ex-barman.
Pickles pickle
If only there were more wags in the Commons like Tory minister Eric Pickles.
The rotund local government secretary doesn't just look like an end-of-the-pier comic, he lives up to the image with aplomb.
This week alone he promised to abide by an EU ruling that the Union's blue flag should be flown somewhere in government buildings to mark Europe Day in May – by announcing he would pin one up in his Whitehall cellar.
This is a double victory for Pickles who has just overturned the Brussels rule that the flag must be flown outside the buildings.
Secondly, he revealed he had banned his team of ministers from eating taxpayer-funded biscuits at official meetings with non-parliamentary guests – "on pain of death" (well, that's the Whitehall canteen for you).
Asked about the provision of tea and biscuits on Twitter, Pickles replied: "I don't think it's unreasonable to offer people a warm beverage or something to eat if they've travelled - or if the thing's going to last - more than four hours.
"But with regard to whether or not any minister has consumed any of this, I can tell you on pain of death none of them have. We don't do that kind of thing."
Actually, he may have gone too far this time. The EU flag may not be a Great British tradition, but tea and biscuits?