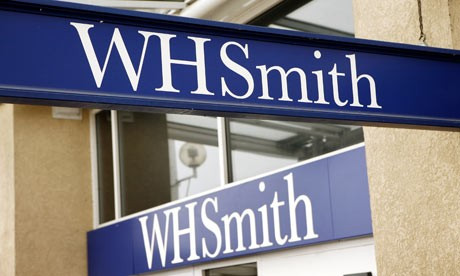 WH Smith, the newsagents and bookseller said it was confident of meeting full year guidance on profits as it announced fourteen week sales for 28 February 2010 to 5 June 2010.
The 218 year old retailer said that its financial position was in line with market expectations.
Sales were down 4 per cent like-for-like on Travel and High Street (Travel was 2 pct when excluding the impact of ash disruption on air travel) and 3 per cent on total sales overall.
"Whilst airport passenger numbers have, as expected, remained soft, we continue to outperform. said a statement on WH Smith's website.
"The economic environment remains uncertain and whilst we continue to be cautious about consumer spending, we remain confident in the outcome for the full year."
A rolling share buyback scheme which delivered £35m at end of first half, is likely to continue after WH Smith confirmed today 'a strong balance sheet' in line with forecasts of £86.5m pre-tax.
Freddie George, analyst at Seymour Pierce, offered this comment:
"The trading update for the 14 week period to 5th June confirms that there has been some impact to travel sales from the volcanic ash disruption.
"We are, however, becoming more concerned that the rate of growth in earnings is beginning to slow and that the significant gross margin gains of the last five years cannot be continued while the LFLs continue to decline.
"We are retaining our Hold recommendation for the time being."
Seymour Pierce has a 'hold' rating on the stock at 454p. Shares in the group closed down 19 pence, or 4.18 pct on the news.