More than one million people are taking part in the annual procession through the Philippines capital to try and touch a centuries-old statue of Jesus Christ.
Every year, the life-sized statue is paraded through Manila for a procession called the Traslacion - meaning transfer. People scramble over one another to touch or get near the statue, which is believed to bring good fortune and health. Many take part in the procession barefoot, to imitate Jesus carrying the cross before he was crucified.
A carriage carrying the statue is pushed and pulled through the city's streets in extreme heat, causing some people to collapse in the packed crowds.
What is the Black Nazarene?
The statue, which depicts Jesus walking to his crucifixion, was carved in Mexico and brought to the Philippines in the early 1600s when the country was a Spanish colony.
It was kept in several churches near Manila until 1787, when it was enshrined in Quiapo Church - the Minor Basilica of the Black Nazarene in the Quiapo district of Manila.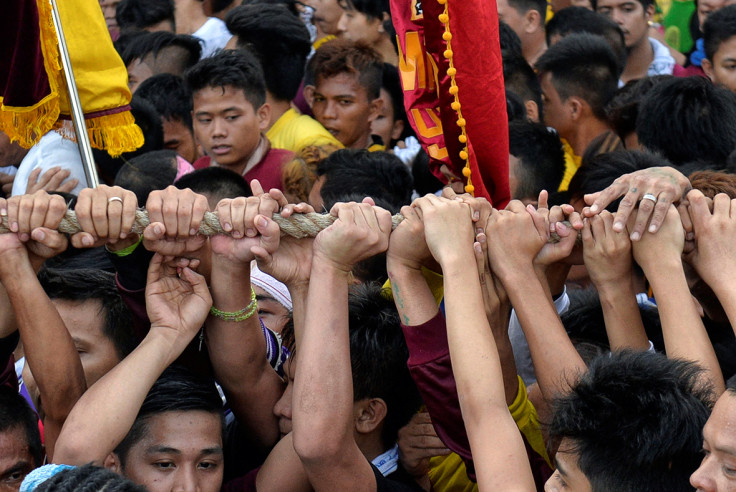 The Black Nazarene is believed to be named after its colour, which is thought to be the result of a fire on board the ship carrying the statue to the Philippines. Some believe the statue's survival from fires, earthquakes and even intense bombings during World War II is a testament to its mystical powers.
It is famous in the Philippines and is considered to be miraculous, with the ability to cure disease. The Black Nazarene is brought out in public three times a year - on New Year's Day, Good Friday and on 9 January, for the Traslacion. The January outing is the largest, attracting millions who try to touch the figure, although the statue paraded in the streets is no longer the original, as parts of the statue are being preserved.
The Traslacion procession lasts around a day and has been celebrated for more than 200 years in Manila, where roughly 80% of the population is Roman Catholic.
In 2016, two people were killed and more than 1,200 suffered minor injuries during the procession. Filipino authorities have warned of the possibility of terror attacks, particularly after the death of Islamist militant Mohammad Jaafar Maguid, the leader of a militant group supporting Islamic State killed by police last week.